Son Pelai luxury in country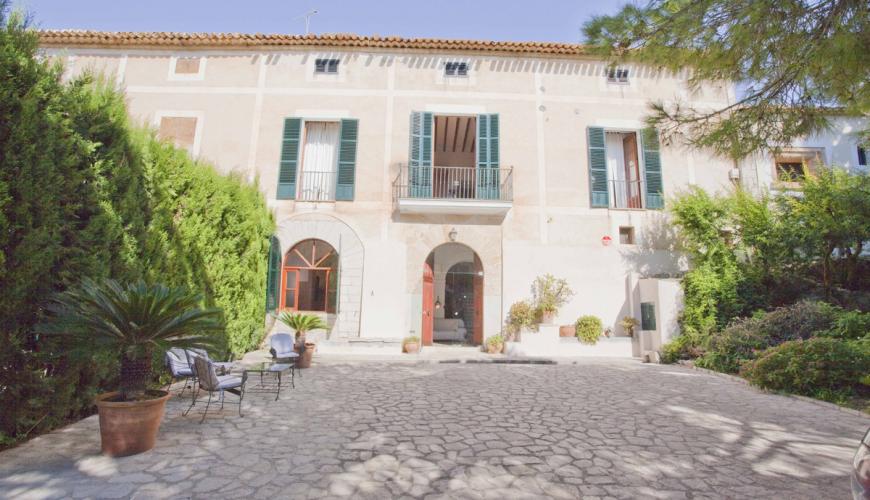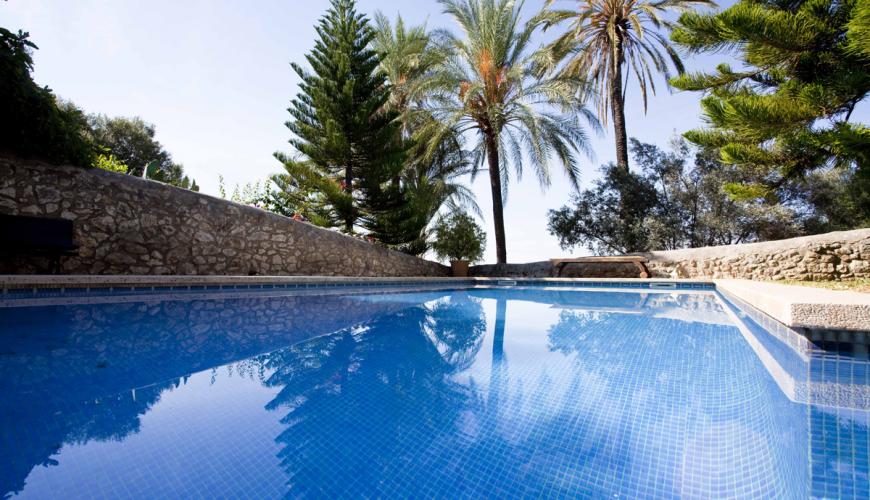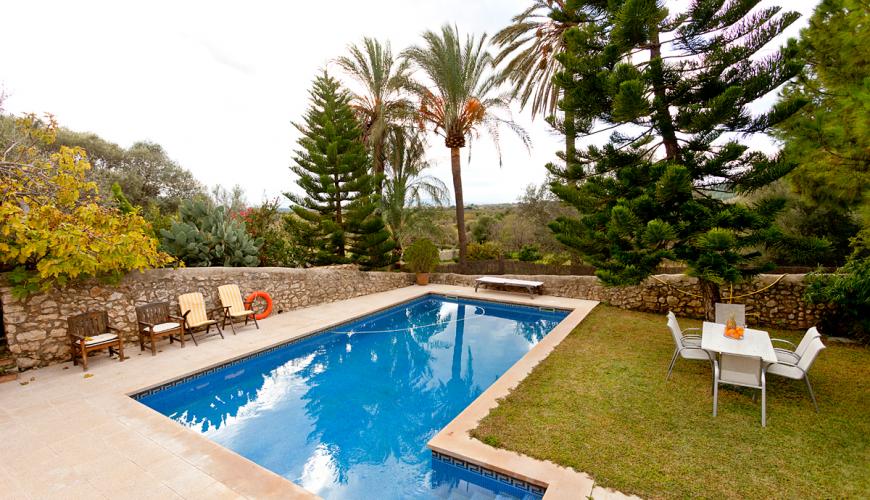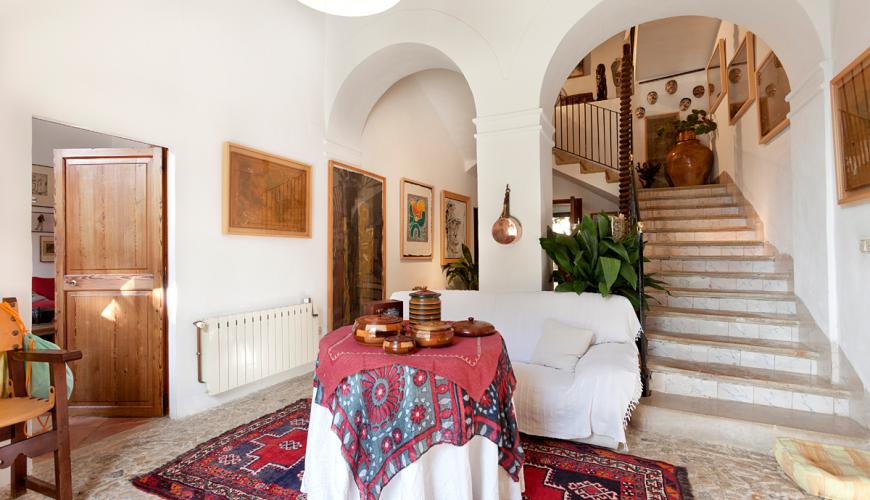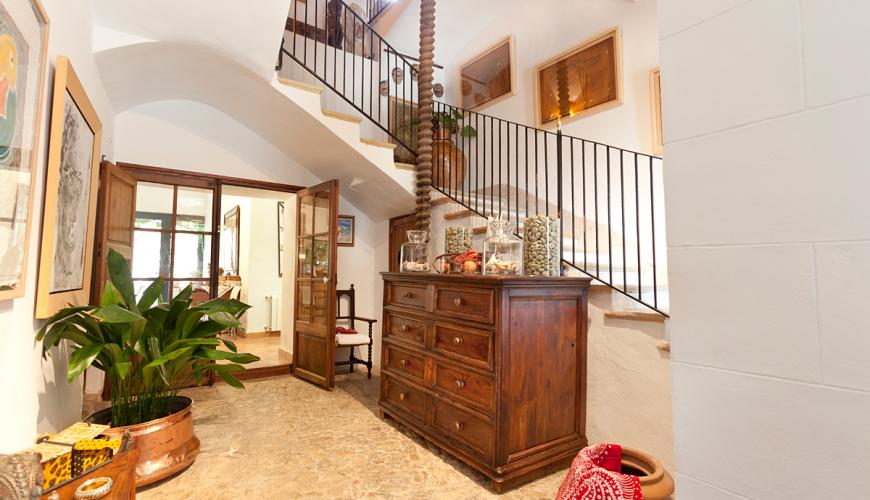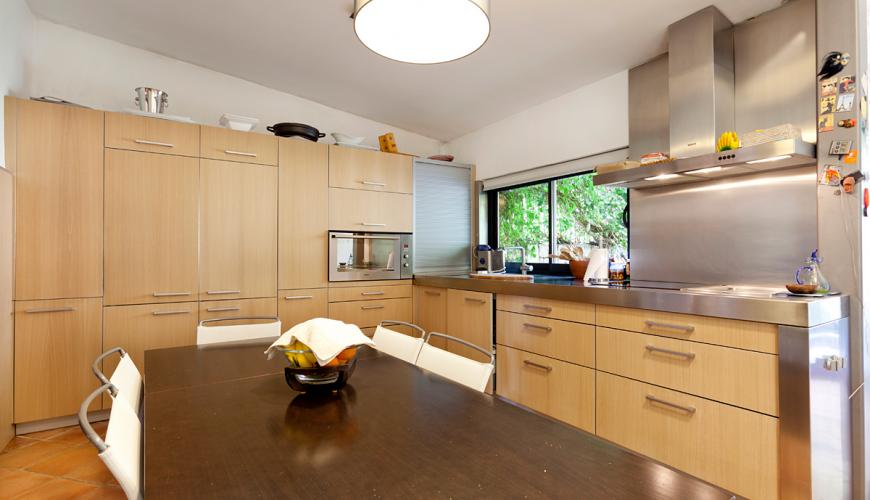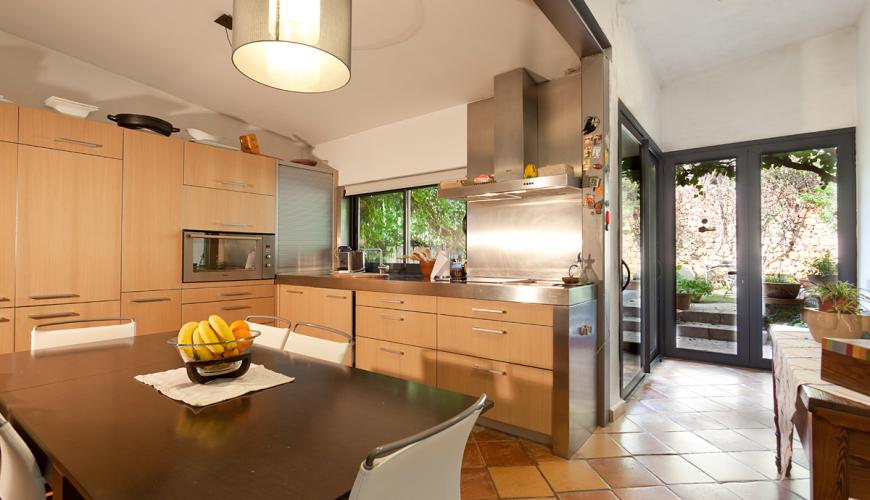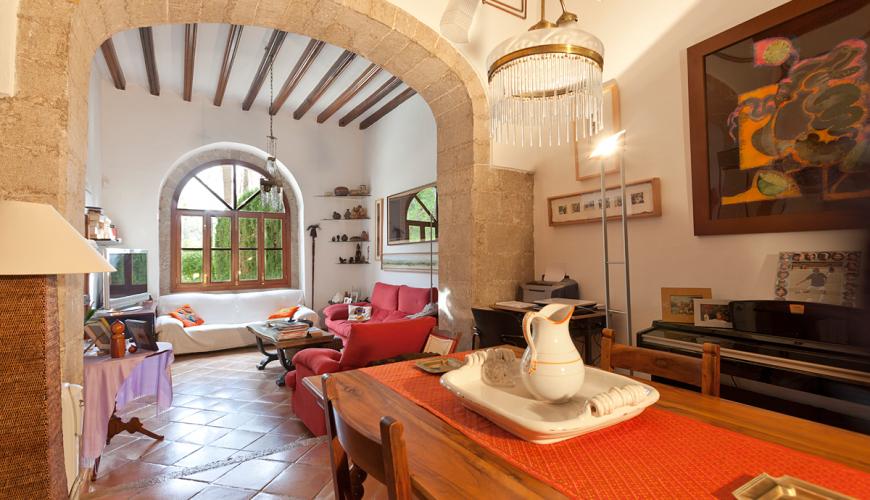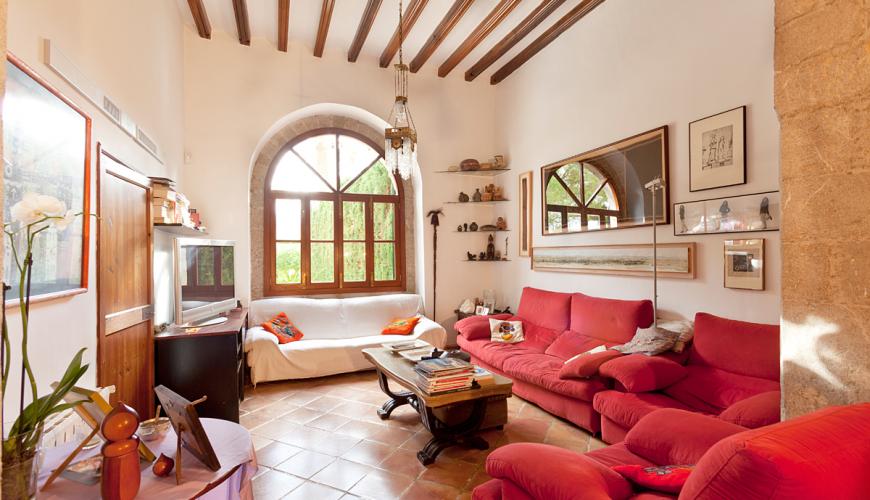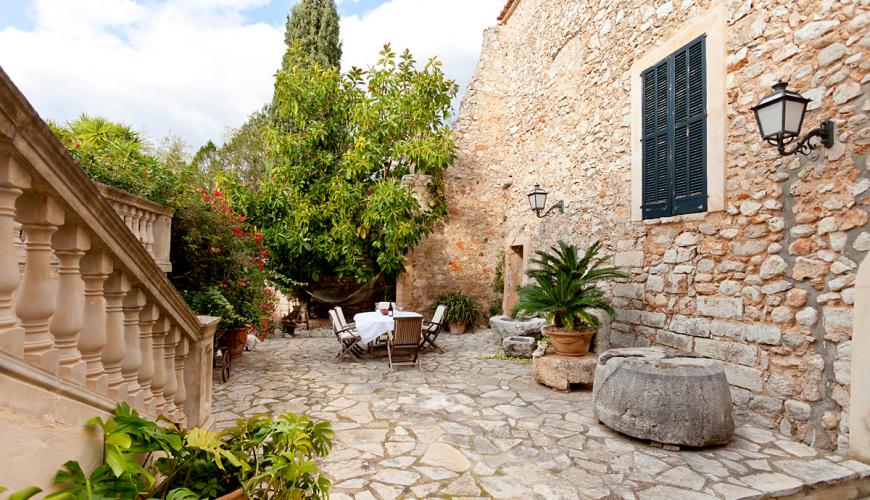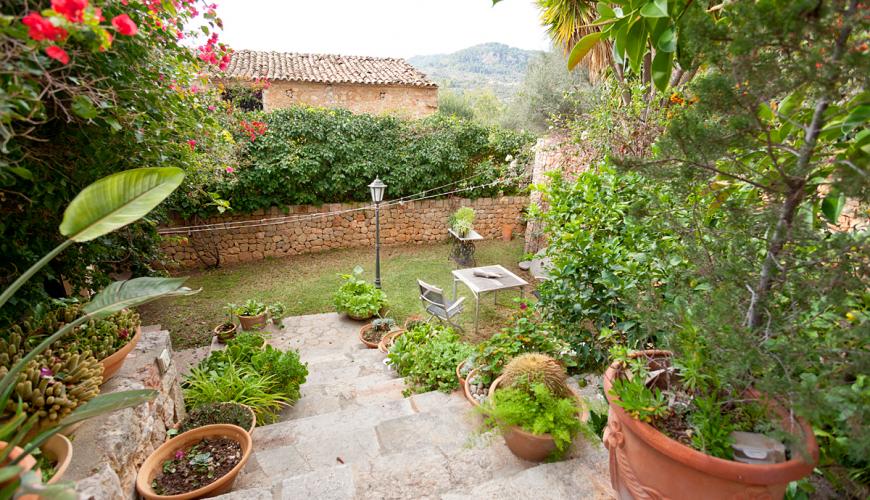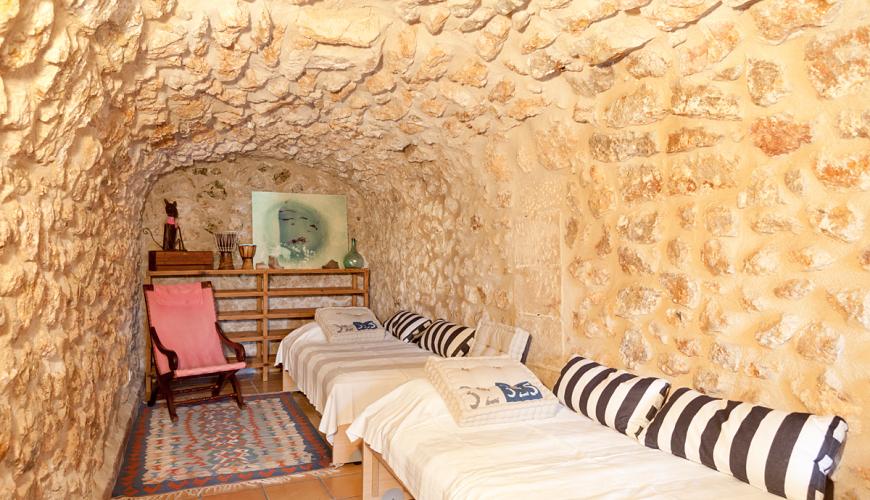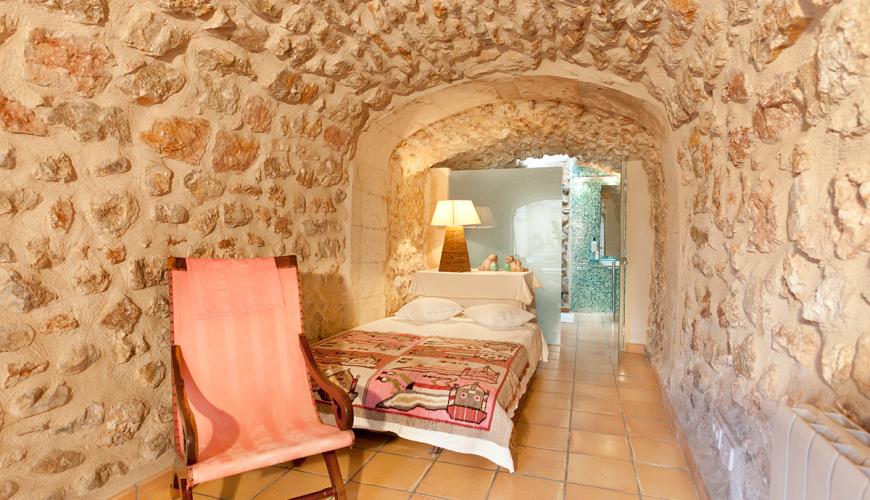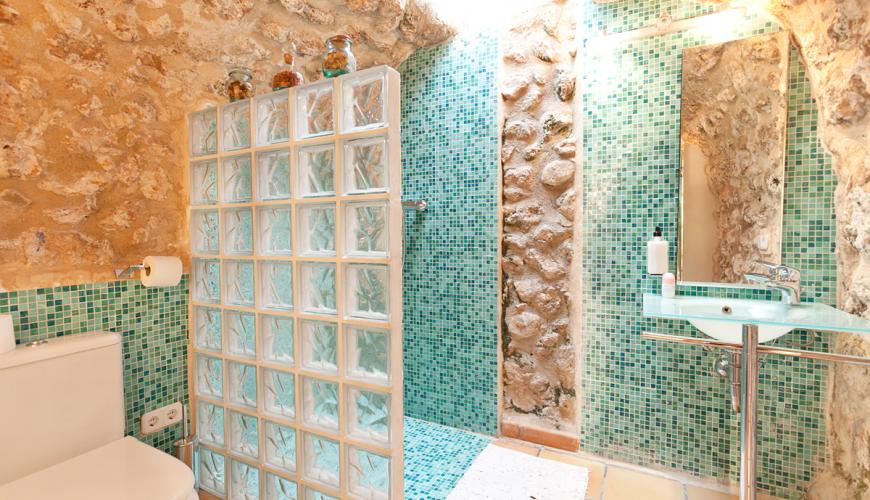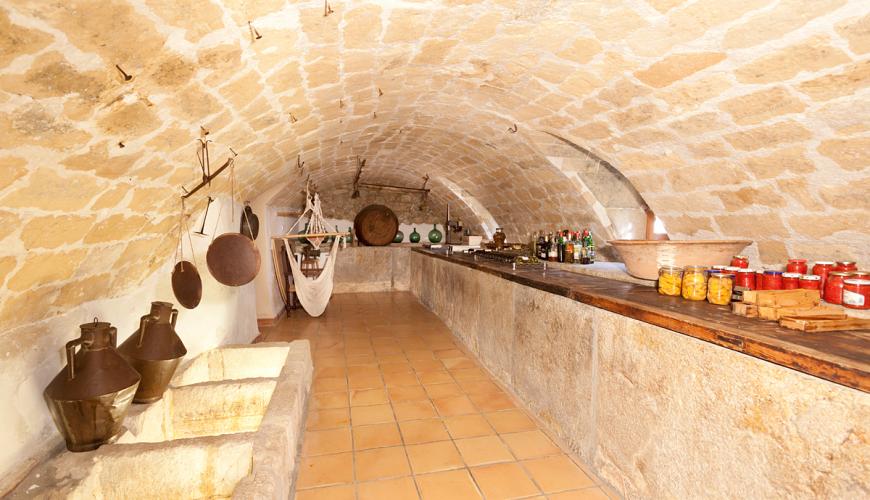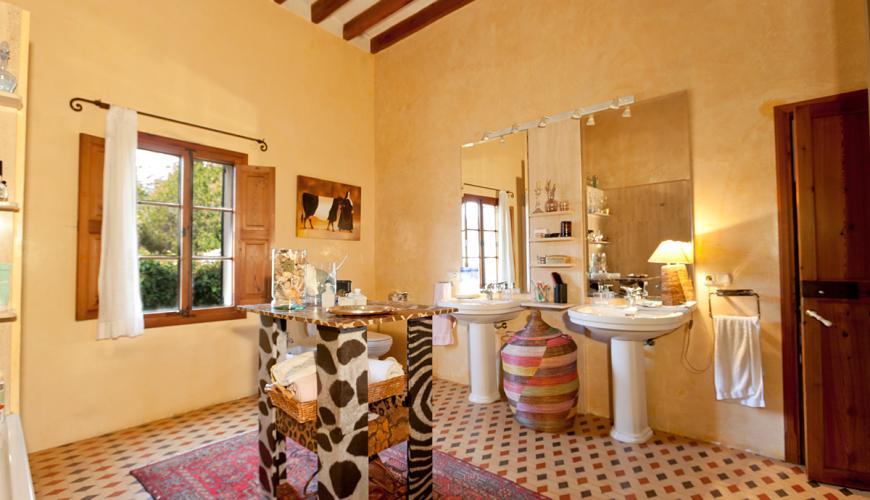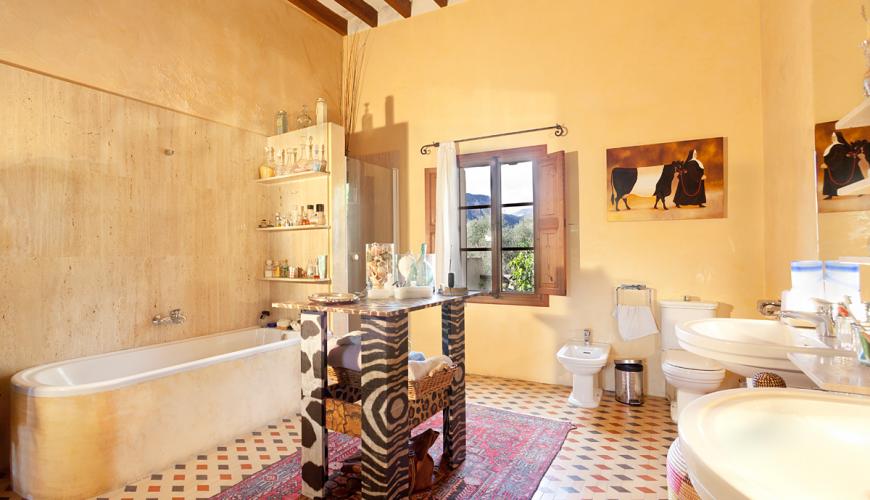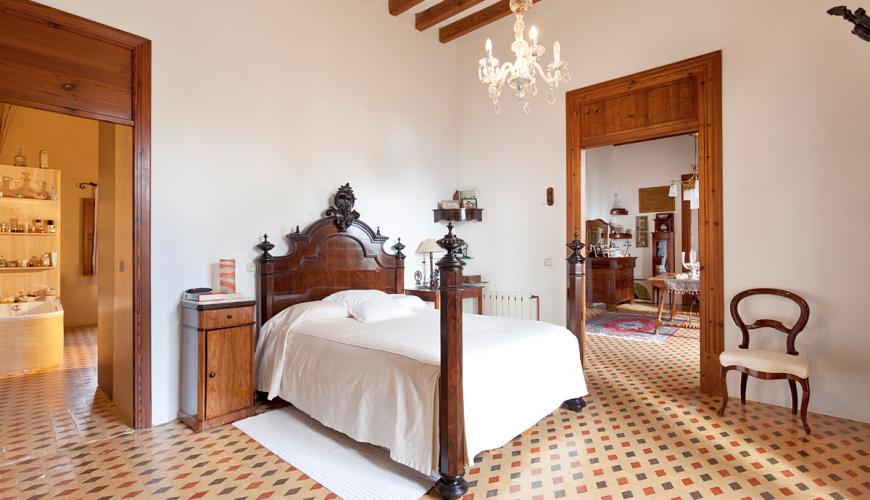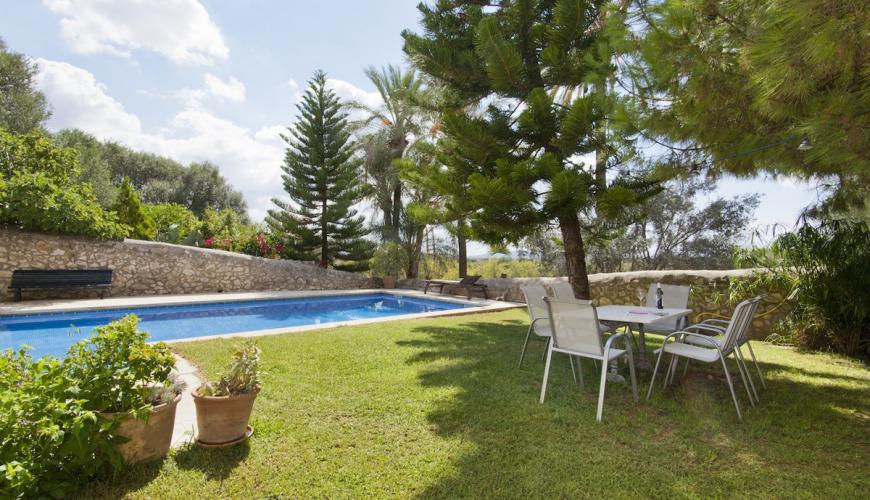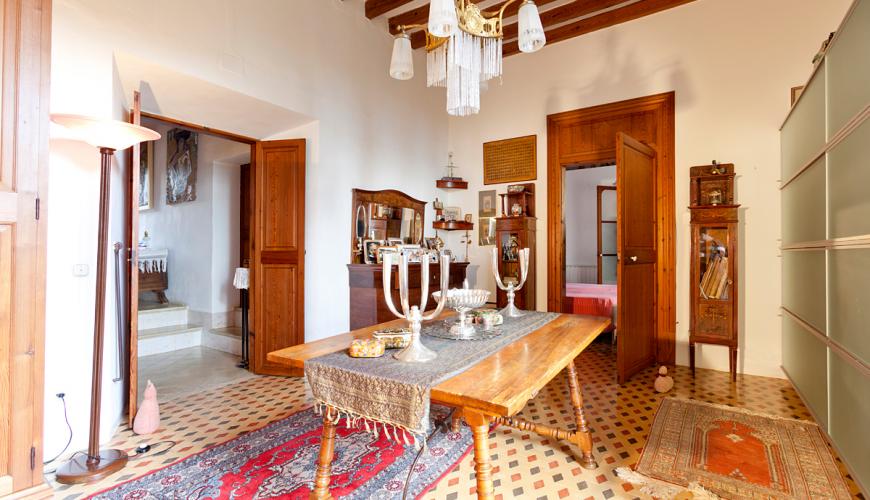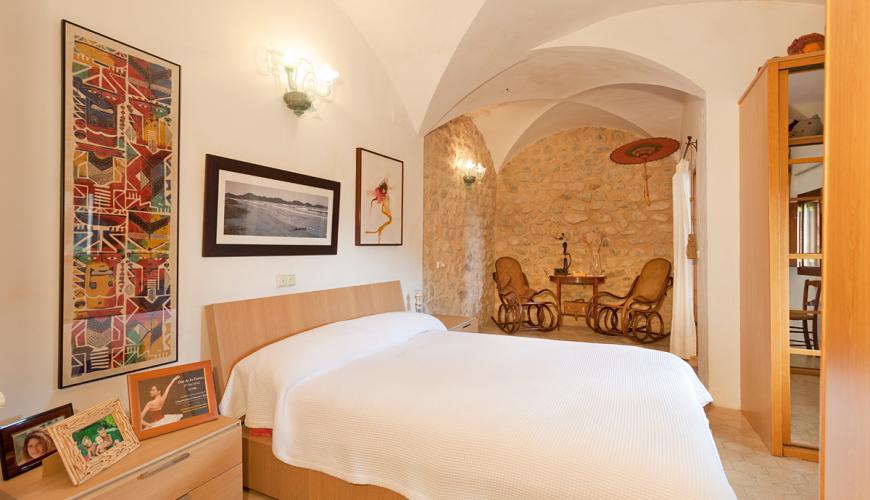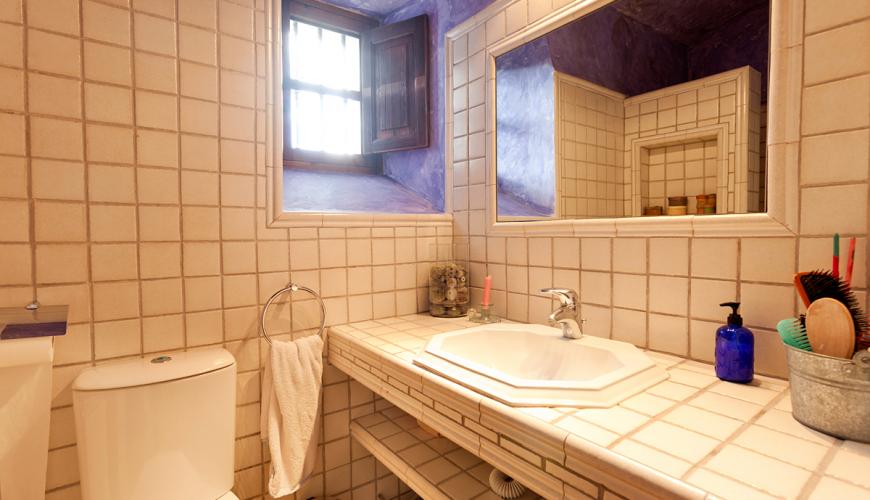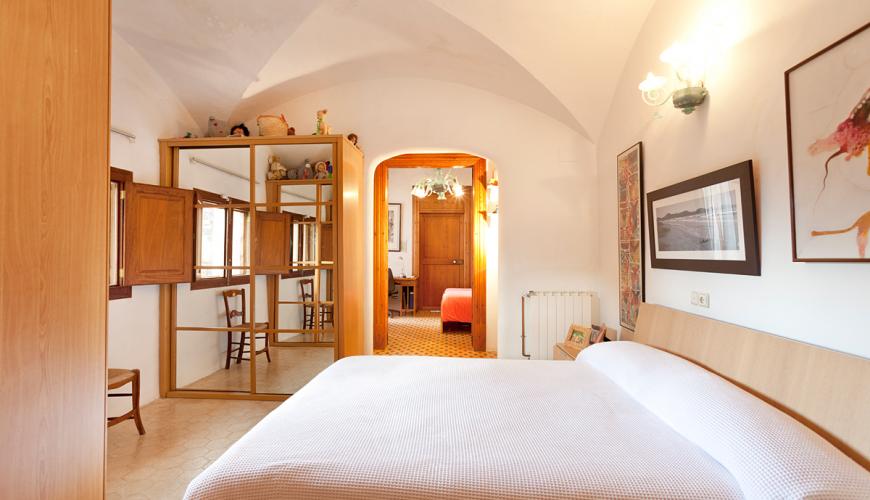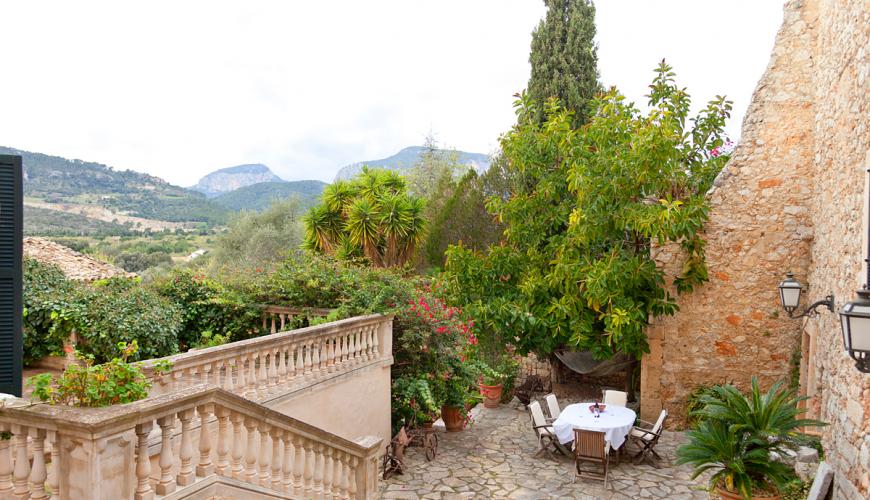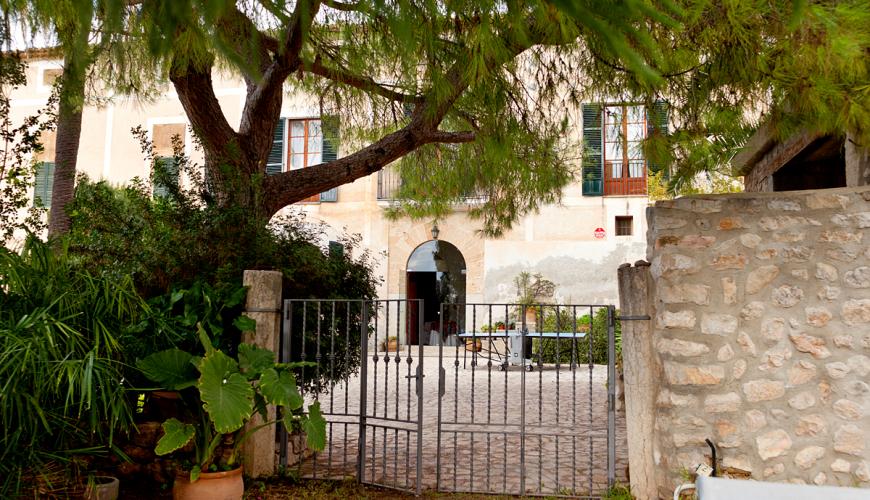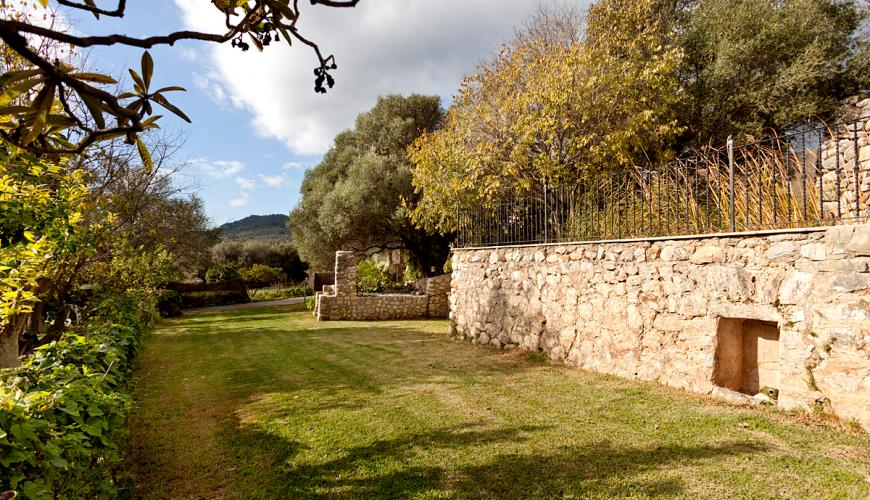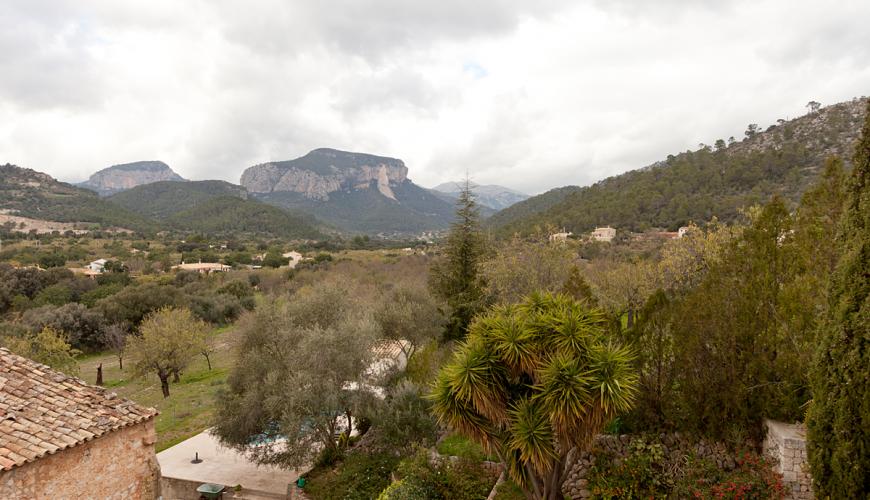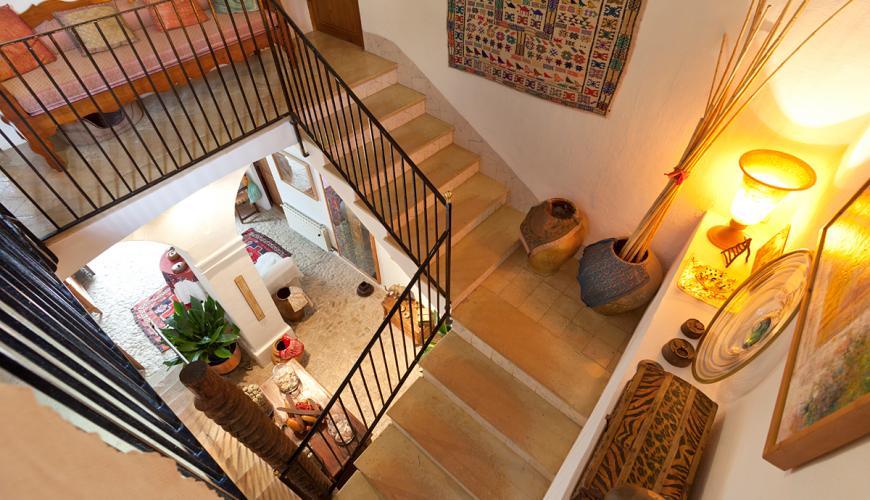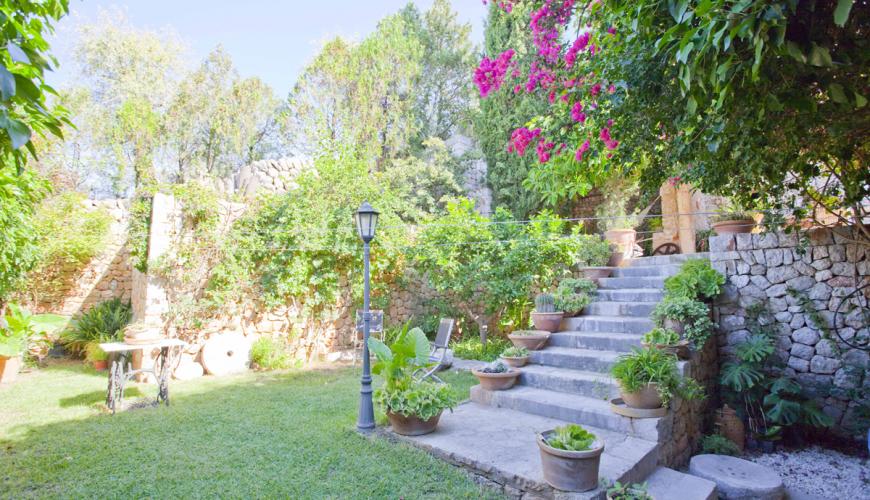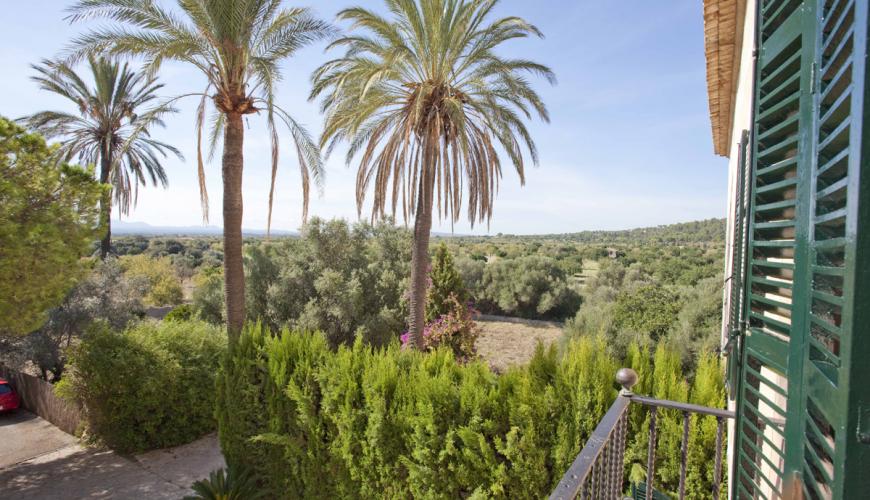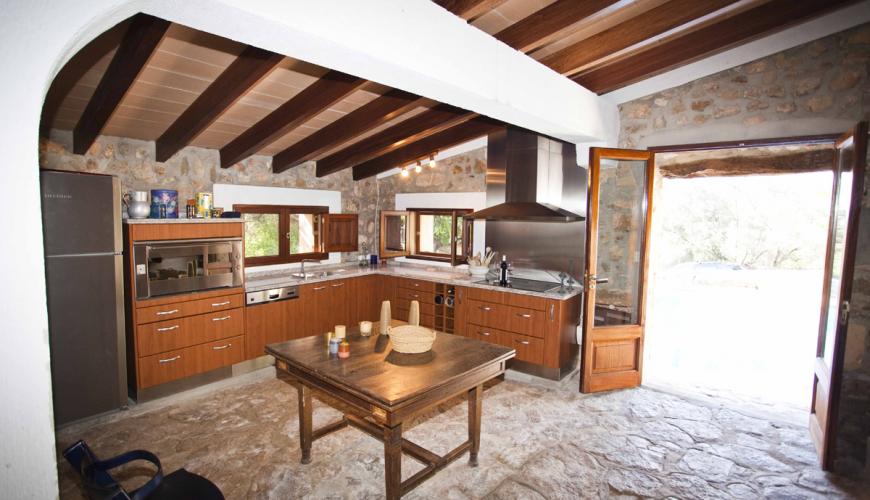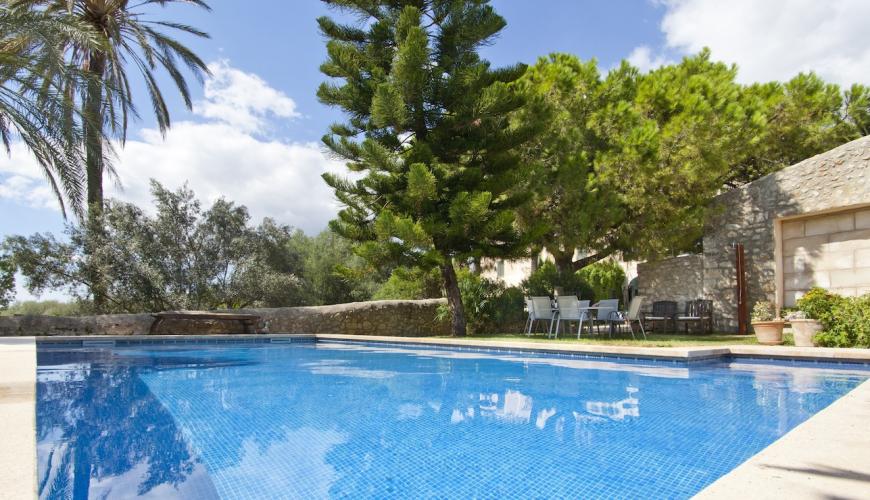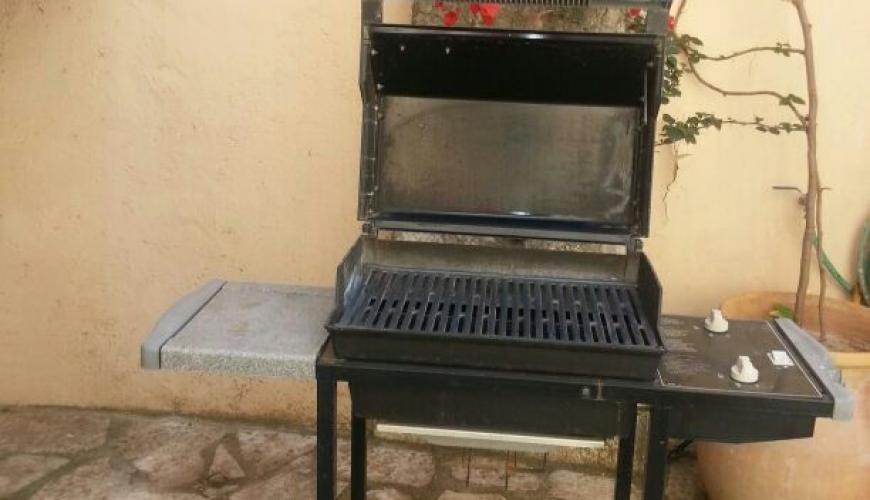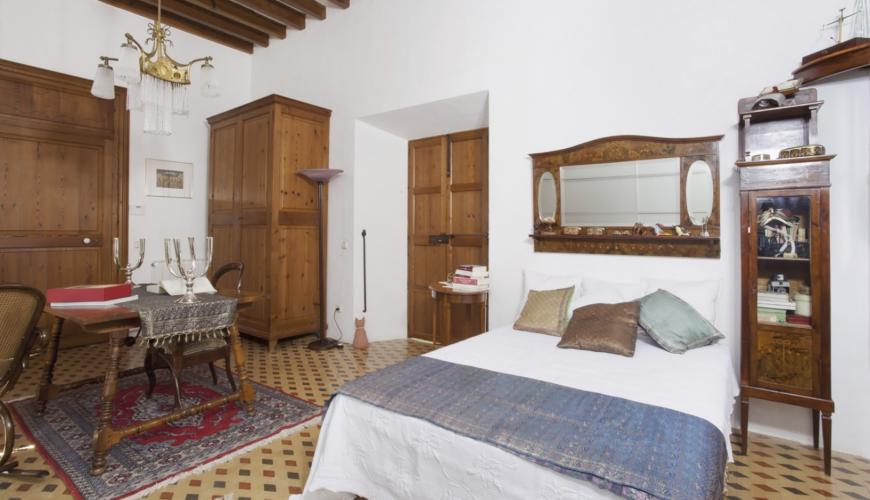 Son Pelai luxury in country
Details
| | |
| --- | --- |
| Type of property: | Villa |
| Reference number: | Son Pelai, Luxury in country |
| Property location: | Lloseta (zona Inca) |
| Capacity: | 12 |
| Bathrooms: | 4 |
| Rooms: | 6 |
| Surface: | 1000 m2 |
Villa Son Pelai | Lloseta | Majorca
The
Gran Villa Son Pelai
is a historic house, completely refurbished, with a
classic Majorcan atmosphere
with plenty of
space
and
comfort
.
In the exterior we have more than 600 square meters of gardens and terraces and a swimming pool of 10x5 meters.
It is located in an idyllic area in the center of Majorca, where you can spend a perfect holiday in a luxurious environment, however close to the neighboring villages.

The house is distributed over 2 floors. On the ground floor there are 2 double rooms, one with a double bed and other with 2 single beds.
On the next floor there are 4 bedrooms; 2 of them with 2 single beds and another 2 with double bed and one single.
In total the villa has 6 bedrooms and 6 bathrooms, 5 of them en suite.

The property consists of central heating in the main house.

This property is perfect for big families, groups of friends, and sport groups or teams, the house has a studio suitable to guard and repair bikes, or any other sport material.

It is forbidden to organize parties or any kind of events that can cause noise or inconveniences to the neighbors, as well as bring music equipment.

If you need a baby cot or high chair, please let us know in advance.

A refundable deposit € 500 is requested to cover any breakages.

To confirm the booking we request 20% in advance. The rest is paid one month before the arrival.

The ECOTAX is not included in the price and will be paid at the check in directly to the landlord. It will charge 2€ per person and night for older 16 years in high season and half price in low season.

ON ARRIVAL

The villa will be available from 16.00hrs the day of your arrival. Early arrival is not recommended since this is when general maintenance service is carried out. Anyway, if you are due to arrive earlier, you can contact us, and we'll suggest you places to go shopping, have some meal, or even arrange an earlier arrival time.


ON DEPARTURE

On your departure day you should leave the villa before 10.00 a.m. As you may understand, we must have it prepared for the next guests. However, if you have a later flight please don't hesitate to contact us, since we can take care of your personal belongings. In case the property is not being occupied, we may also arrange a later check-out time.


INTERNET

WiFi free of charge is available for our guests, by meaning that you can bring your laptop and stay connected throughout your whole stay.


TELEVISION

The villa has a television with TDT (terrestrial digital television) and Astra satellite as well as a DVD player.


SAFETY

Our villa is completely fenced and totally safe for children. It also has security doors and safe vaults.
Although Lloseta is a very low risky area, we recommend you to place all your valuable belongings in the safe, and not to carry them with you to the beach.
It is also important to ensure you that all doors and windows are correctly locked the moment you leave.


CLEANING

The villa has an utility room equipped with a washing machine, a dryer, clothes line and all the cleaning material that may be needed to maintain the villa.
The kitchen includes a dishwasher to save you time to enjoy your holidays.
You'll find the villa in clean conditions and provided with sheets, towels and beach towels.
As far as possible we request you to keep the villa clean and tidy during your whole stay.
If you need an external cleaning service you may order it with an extra charge of cost of 20€ per hour with a minimum of two hours per session.
Rubbish should be placed in specific bags at the containers located at the road for this purpose.


WATER

The scarcity of water in Majorca is a fact that should make us feel conscious about it and try not to waste it, so we would appreciate if you had it in mind.
Majorca's water is suitable for cooking but it is not recommended to drink it.


INFORMATION OF INTEREST:

Nearest Airport: Son San Joan at 29 Kilometers
Nearest Ferry: Palma at 29 Kilometers
Nearest Train: Lloseta at 1.2 Kilometers
Motorway / Nearest Motorway: Alcudia-Palma at 4 Kilometers
Nearest Beach: Alcudia or Palma at 29 Kilometers
Bar lounge - closer cafeteria: several at 800 Meters
Nearest Restaurant: several at 550 Meters
Nearest supermarket: in 800 Meters
Nearest Golf: Golf Park Mallorca Puntiró at 20 Kilometers


Location:

Lloseta is located about halfway between the capital city of Palma, and the town of Alcúdia in the north of the island. Sitting on the foothills of the Sierra de Tramuntana, with the Mallorcan plain laid out in front of the town, almost every point on the island can be reached by car in 30 minutes.

Exp: 643/2013/ET
Property features
Air-conditioning
Barbecue
Heating
Baby Cot
Internet
Garden
Washing machine
Dishwasher
Parking
Swimming pool
Terrace
Highchair
Satelite TV
Mountain View
Location

_cargando_calendario_
SEASONAL RATES
| | |
| --- | --- |
| PERIOD | PRICE PER WEEK |
| 19-09-2021 -- 31-10-2021 | € 2,898 |
| 01-11-2021 -- 19-09-2022 | € 1,505 |
Town information
INCA AND LLOSETA
Located in the region
of
"Es
Raiguer
" in the
interior of the island
of
Mallorca.
Inca
is among the
first
cities
of the island in
terms of number of
inhabitants
only below
Palma.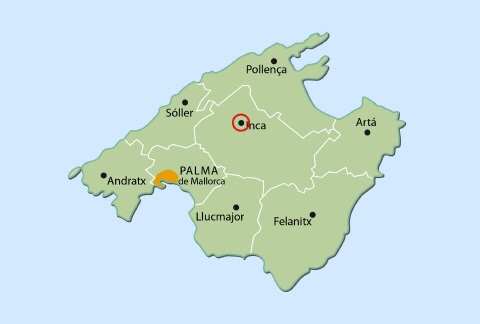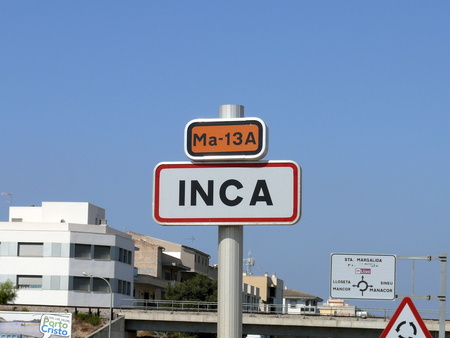 Historically
the town
had
Talayotic settlements
that followed
inhabited
during Roman times
,
until
s
.
V.
In
Islamic times
it was called
'
INKAN
' and
that
there are still
vestiges
Arab presence
, like the
'
sinies
'
,
the
'
qanats
'
or
'
foggara
' which
were different
systems
to get the
groundwater.
The rise
of the town
began in the early
twentieth
century when
,
favored
by train and
by
installing a
gasworks
,
appeared the first
factories
of skin
sector, mainly
focused
on footwear
.
In
Inca
there is a large
market every Thursday
,
considered one
of the most important
of
Mallorca.
But the most
noted
market
year is the "
Dijous
Bó
"
(
Good
Thursday)
coinciding with
fairs
locality,
held in October
celebrates
the
Sunday following
the feast of
Sant
Lluc.

More
information
on this
link:
http://www.dijousbo.es
In
the
"
cellers
"
Inca
,
wineries
as restaurants
, you can eat
the typical
regional
food and
some cookies
typical "
cookies
Inca"
with
the factory
"
Quely
"
as the most
important.
As for the
monumental
heritage of
Inca,
emphasize the church
"
Santa Maria la mayor
"
, the old
"
convent of
Sant
Domingo"
,
the
"Sant
Francesc
" and
the
"
Monastery of
Sant
Bartomeu
"
.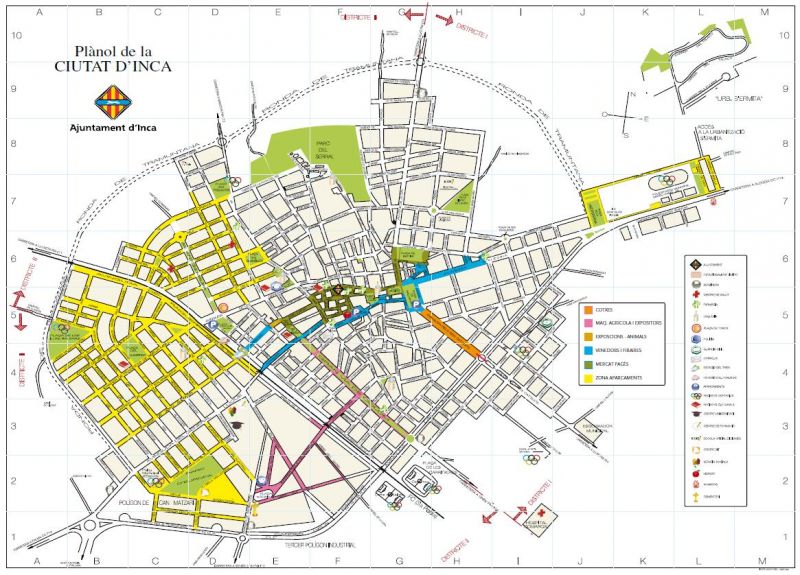 Lloseta
Although
Lloseta
is
an independent town
, we
have attached
to
the town of
Inca
due to
its proximity
and small
dimensions (
it is the second
smallest municipality in
Mallorca)
,
Lloseta
borders the
municipalities of
Inca,
Binissalem,
Alaró,
Mancor de la
Vall
and
Selva
.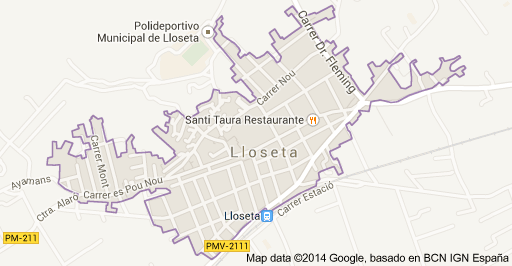 As
Inca,
it is in
the Raiguer
and much of
its
land is
steep
,
with
elevations up to
500 meters
.
Forest area
of the municipality
exceeds 25
percent and
pine
occupies most
of its length,
followed by
scrubland
and
alzinar
.
There are many
natural caves
,
among them are
the
"
Cova
des
Corral
de
Porc
"
, about
300 meters
length
of "
Fideicomís
" and the
"
l'Avenc
de sa
Font
des
Vidre
"
.
On our visit to
Lloseta
, we can not
miss the
"
Oratorio del
Coco
" and the
"
Palacio de
Ayamans
"
;
the latter
was
owned by
King James
I.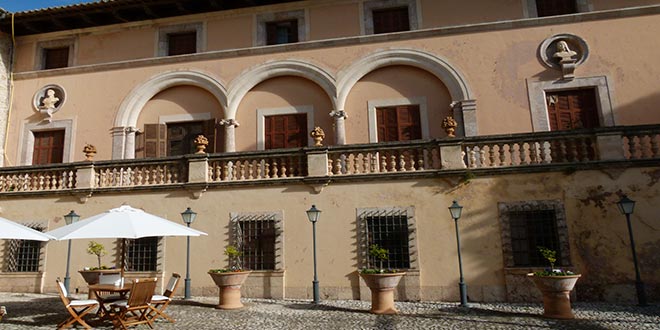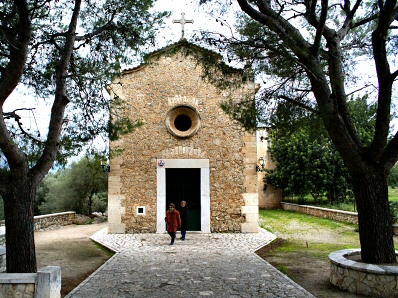 The Mallorcan
banker
Joan March
acquired
in 1927
,
parceling
their land
;
this facilitated
the growth of the
town
urban
.
Their houses
and
gardens
are open
to the public,
the scene of
cultural events.
Until the late nineteenth
century
,
Ayamans
and
Lloseta,
were separated
nuclei,
starting from
this date
its expansion and
annexation.
Activities, services & Restaurants
In

Inca

highlight the

cultural

and gastronomic routes

.
(

Learn More

by clicking on

the photo

)
Routes footwear: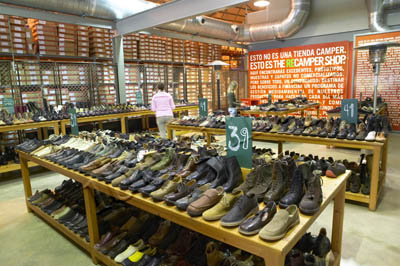 Inca
is synonymous
footwear
and skin
,
is considered one of
the great capitals
European
regarding
manufacture.
Mallorcan
footwear
exports
, increased
its external
valuations and
emergence
of flagship
firms
,
though with great
historical roots
, have
made the
Mallorcan
shoe
is recognized
in the
world for its quality
.
Today we find
the corporate headquarters
of the most
important and prestigious
brands in the industry
who have
shops
open to visitors
.
---
Routes commerce: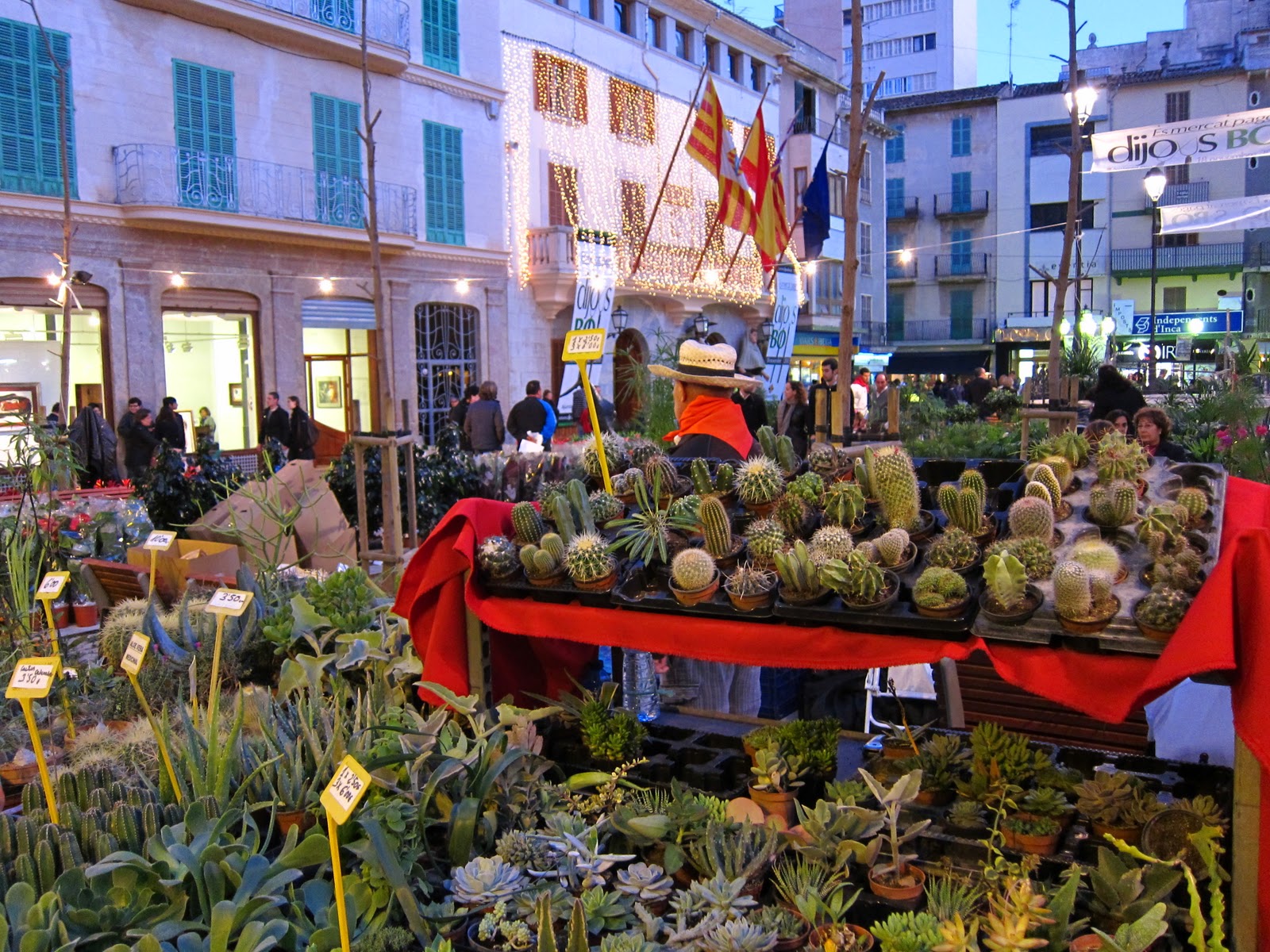 Inca
is a town with
a long
trading tradition
, being the
center town
more
important
after the capital and
very
dynamic economic sectors
,
such as footwear
and
textile
.
Every Thursday
held
a large market
, in addition to
the covered market,
open every
day.
In the
carrer
Major
and
carrer
comerç
, activity
is incessant
.
---
Patrimony routes: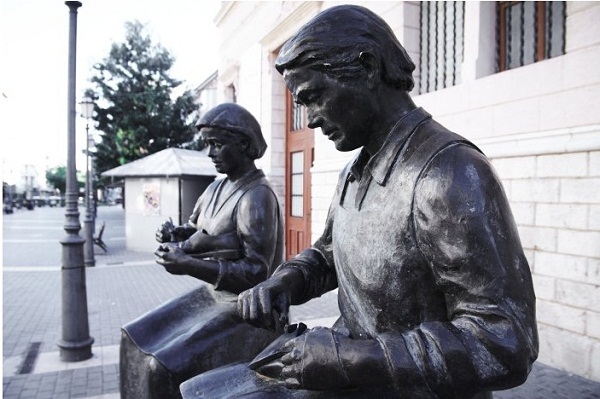 Inca
is a city with
an important architectural
and
heritage
of great artistic interest
,
with
prominent examples
starting
from prehistoric
,
medieval times,
the
s
.
XIX
and
XX
and the
contemporary age
.
-Plaça
De l'
Aigua
per
carrer
Can
Valella
-Plaça
Quartera
(
sa
cap
to
gran via
)
-Convent
Sant
Francesc
, etc.
---
Routes of cellers: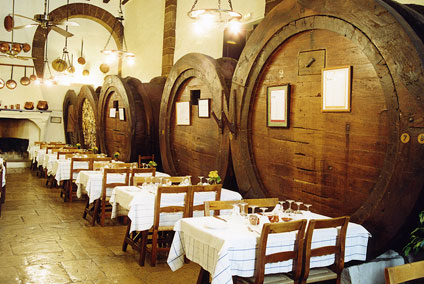 In
the
cellars
, once
it was made
and
kept the
wine in large
wooden barrels
.
In
Inca,
the vineyard
was their
main crop
until the
pest
phylloxera
caused
as
replacement
other crops
such as
almonds.
Currently,
cellars
,
restaurants
have become
typical
Mallorcan
cuisine.
usually
usually very high
,
beamed
rooms
covered
and that
are below
level
,
or level with
the street
, but
depends on the
celler
.
---
Green Routes: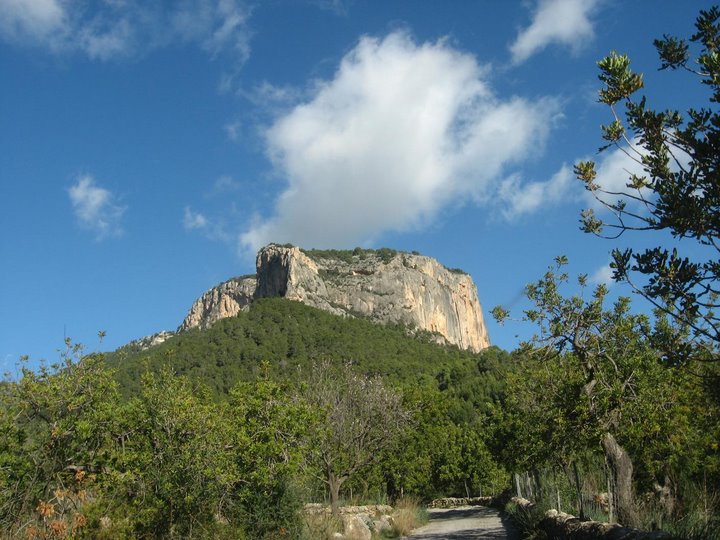 Inca
notable for being
the foot of the
Serra
de Tramuntana
,
on the former grounds
that
gathered
the
bay
of
Palma
and
Alcudia.
To
the northeast
is
the mount of
Massanella
and
arrive almost
at his feet
the last
terraces
Mancor
de la Vall
and
Lloseta
.
Despite
all this
, most
of the municipal
area of
Inca
is in the
Pla de
Mallorca,
surrounded by
the municipalities of
Selva
,
Búger,
Sa
Pobla,
Muro
,
Sineu,
Costitx,
Sencelles,
Binissalem
and
Lloseta
.
---
Restaurant Santi Taura: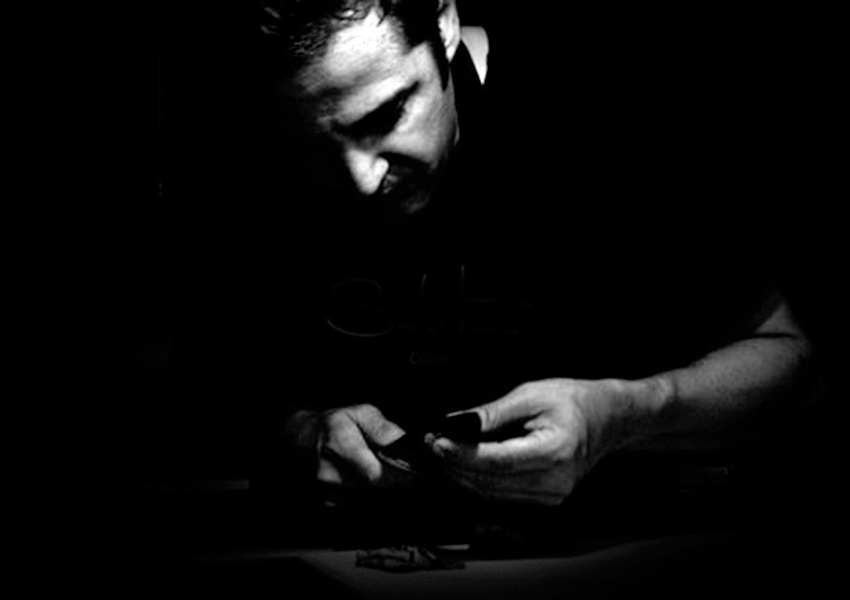 The concept
offered by the
restaurant is simple
.
Offers a unique
tasting menu
for all guests
and
changes weekly.
It consists of
3 starters
, fish, meat
and dessert
,
may
extend
the menu with
our
cheese cart
.
(It is
necessary to
reserve)
OPENING HOURS
Noon
from
13:30
h
.
and evenings
from
20.30
.
Sunday evening, Monday
noon and
tuesday
.
C
/
Joan
Carles
I,
48/
07360
/
Lloseta
/ Mallorca
(
+34
)
656 738 214
---

Big Game Fishing / Yacht Charter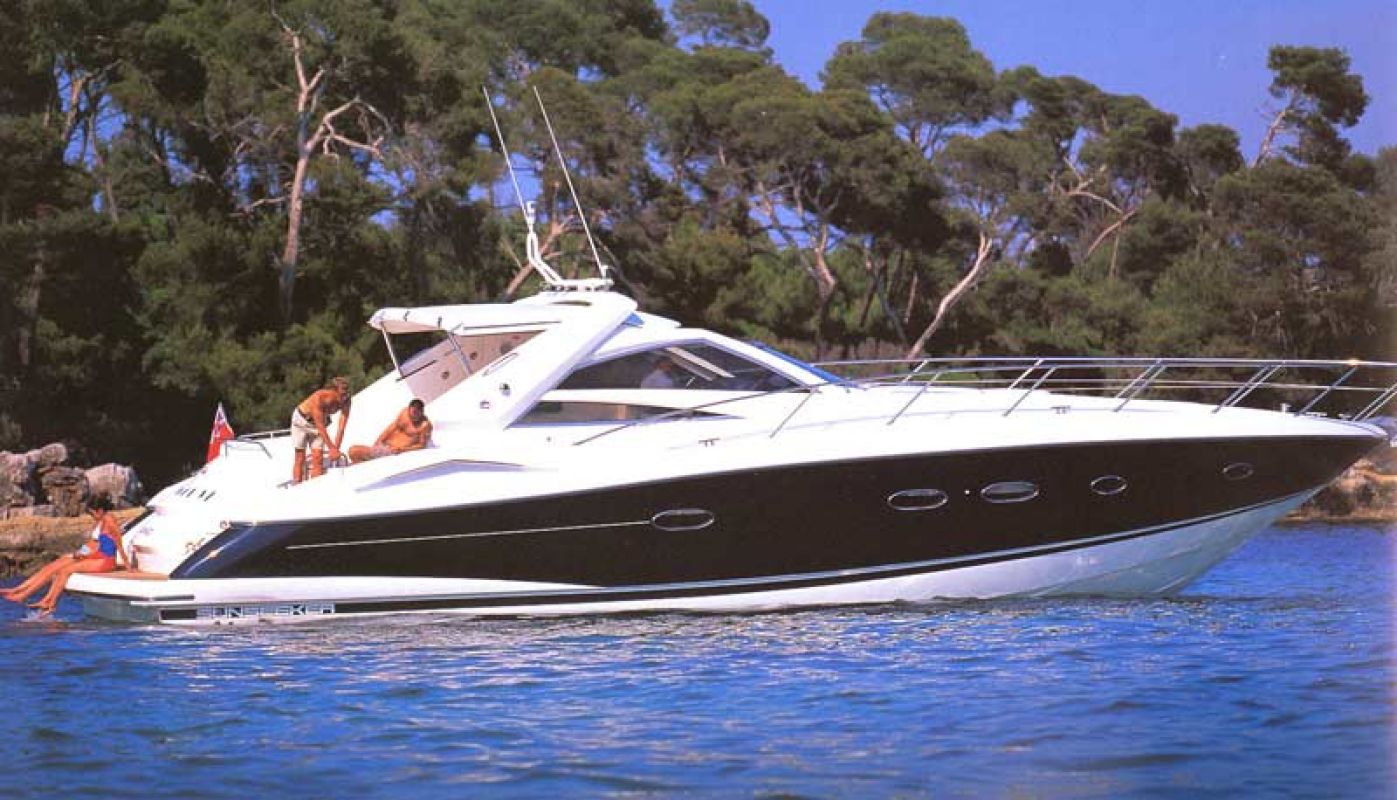 We work with few charter comapanies over the island.
If you want to have a great day visiting local bays wich you only arrive
by seaway, cruising through cristal clear mediterranean water or visit
Menorca, as well our charter companys organize all kind of fishing
activities, bottom fishing igging, spinning and Big Game Fishing so you`ll
never get bored on the boat. If you are interested please let us know in
your enquiry and we will prepare the quotation.


---
Boat excursion


You have the chance to visit the most beautiful places and beaches
of Majorca from a different perspective. Spend an incredible day in a
7 meters boat, enjoying the sun and the blue water of the amazing bays
of the island. Try this incredible experience, having lunch and drinking in
a boat, resting in the middle of a bay, sunbathing, taking photos, water
skiing, and other interesting things.




You will have to carry your own food and drinks. The maximum number of
people is 7. The normal price is 450€, from 9:00 until 19:00, but it can vary
according to the schedule. Normally, you can choose any day of the week
but, in order to arrange a date and time that suits to both of us,
please contact us.
---

Mallorca Airport Transfers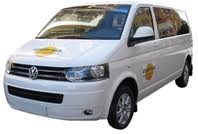 We work with one of the best transfer companies in Majorca, with
them it's possible organize a transfer for goups up to 16 persons,
with competitive rates. Please if you are interested, please let us
know in your enquiry and we will prepare the quotation.



---
Limousine rental



Villas Comfort offers you the chance to enjoy the luxury with a
exclusive limousine for you, perfect for weddings, events, shopping in
Majorca or any service that makes you miss,always with maximum
discretion. You just have to request the service a few days in
advance, and will gladly manage the procurement of this
select service.

---

Didi`s Coast Adventure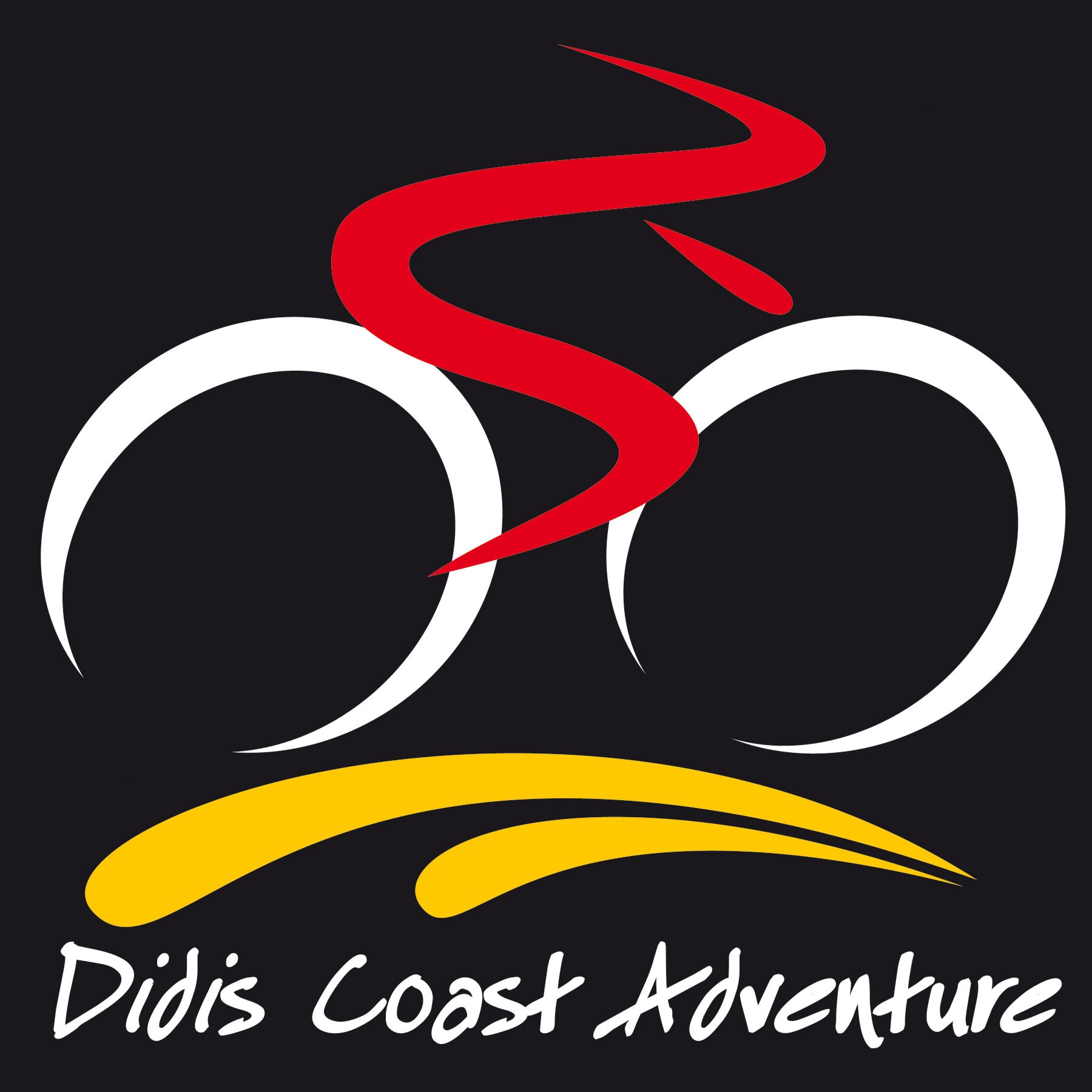 In Didi's Coast Adventure you can find everything related to outdoor sports in Mallorca.
From mountain biking, Nordic walking or just walking.They offer high quality mountain
bikes,road bikes and trekking bikes to rent. All the views over the quiet pathspassing
by sheeps and goats, with a spectacular view of the
Serra de Tramuntana, deep gorges down to the most remote beaches of Mallorca.
With Didi's Coast Adventure you will have a memorable time and know about a side
of Mallorca that you did not know before .
Contact : Tel: 0034 – 61 70 75 76 4 // email: mail@coastadventure.net
---
Private Cheff Service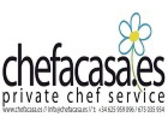 Chefacasa is a young and innnovate company whose philosophy is
based on creativity, taste and quality. All chefs have a large experience
in renowned restaurants and cattering companies.
Haresnick | Date Stay: November 2013
Myself and my party of 14 stayed for a week starting September 1st and could not ask for more in a property. The villa is amazing and caters for everyone and as we had children in our Party was perfect. The rooms are stunning and extremely well look after and all the bathroms and kitchen was spotless when we arrived which was very pleasing.
The pool area gets sun all day which is perfect so there is no need to leave the villa to top up your tan!! It is perfect for all parties. On arrival of the villa we were met and given all the information we needed about the property and the surrounding area. All in all our party were over the moon and loved our stay and look forward to staying again. Amazing villa
---
Charlotte A. | Date Stay: June 2015
Very beautiful house and surroundings, a bit difficult to find at arrival- some directions could be useful. Very spacy with many bedrooms and fantastic, clean bathrooms enaough for 20 people. The pool surrounded by shading trees was very relaxing between the many excursions. The kitchen was well equipped and we could profit all mashines- dishing and washing . The outdoor table could allow all of us to have meals together. The manager was available and very nice and helpful. We enjoyed fantastic meals at Jardin, Alcudia( tasting menu) and El Playero, Alcudia ( family dinner , where the children could play on the beach)
---
Martin | Date Stay: August 2017
This is an awesome villa in a very quiet place. We really have enjoyed our holidays there. It is a very clean house that has spacious bedrooms with great gardens and swimming pool, we will be back soon!

---
Harry | Date Stay: July 2018
My friends and I (18 lads) absolutely loved this place! The photos didn't do it justice, the place is so big, you can't even imagine. Only problems were that the BBQ didn't work, the tap in the kitchen sprayed everywhere and wasn't a constant flow and the oven in the kitchen wasn't very good. Also, not every room has air conditioning, which wasn't ideal but if you have a fan, it definitely does the job. This place could easily fit about 4 families and would be ideal for any big group. Although it wasn't near Palma, the train station was a short walk away and was easy to access, so getting around was easy. The owner was very welcoming and the villa does have anything and everything that you would need. We spent the majority of the days chilling around the pool and didn't want to leave because the villa was so ideal and had everything we needed. Shops, bars and restaurants are only a short walk away and if you require more choice, then Inca is one stop on the train, where there is a wider variety of shops, bars and restaurants. Overall, this villa is in a nice, secluded location and is ideal for a relaxing holiday. Also, the neighbours were great and had no problems with us.
---
Step 2

Please check price details

Step 3

Please fill out with your info

Step 4

Review your reservation