Villa Llenaire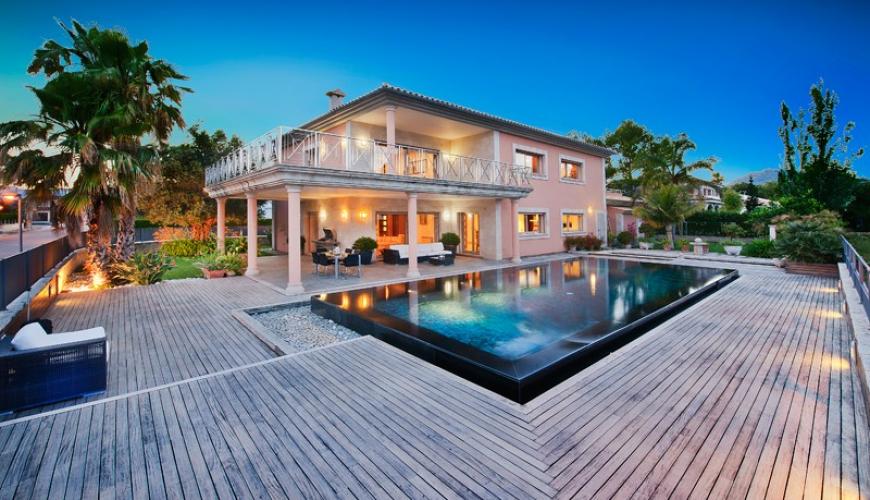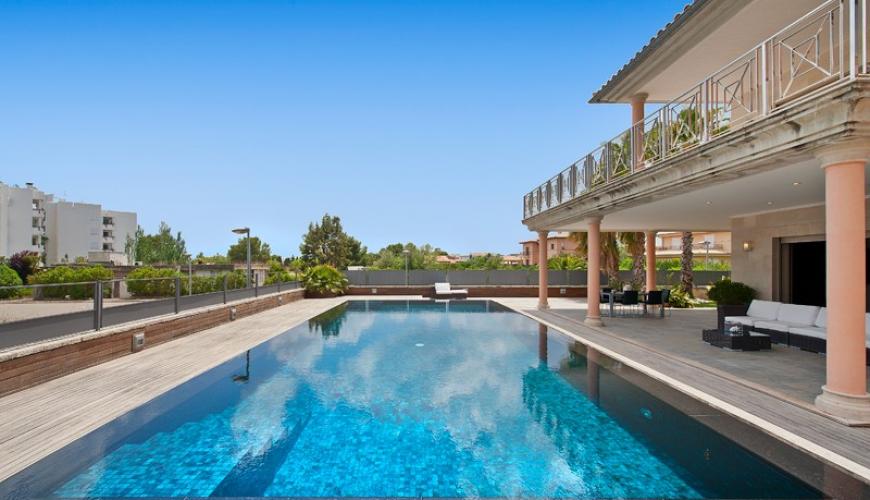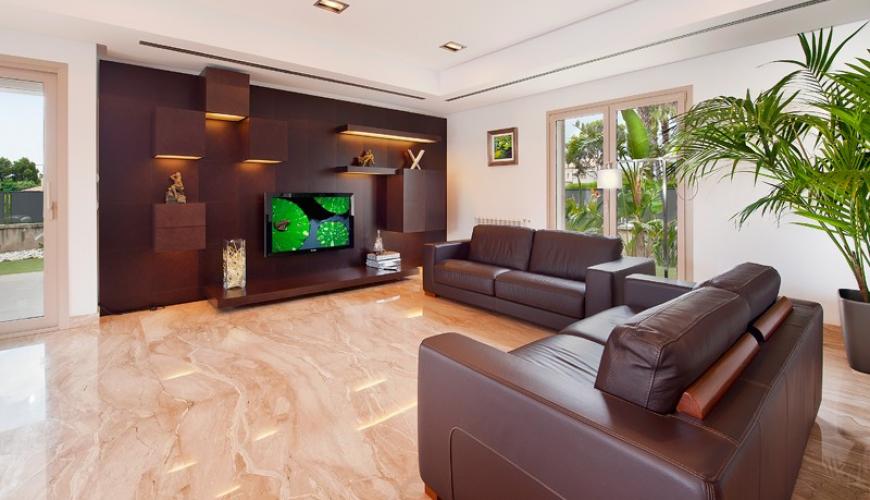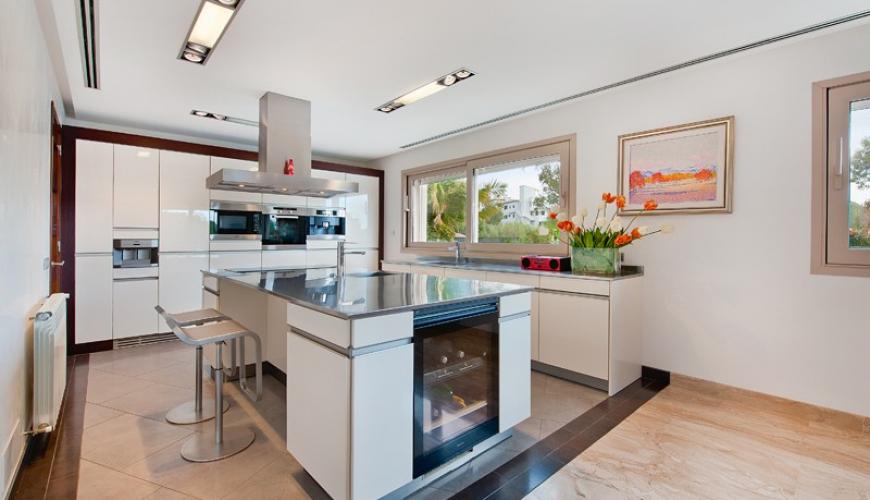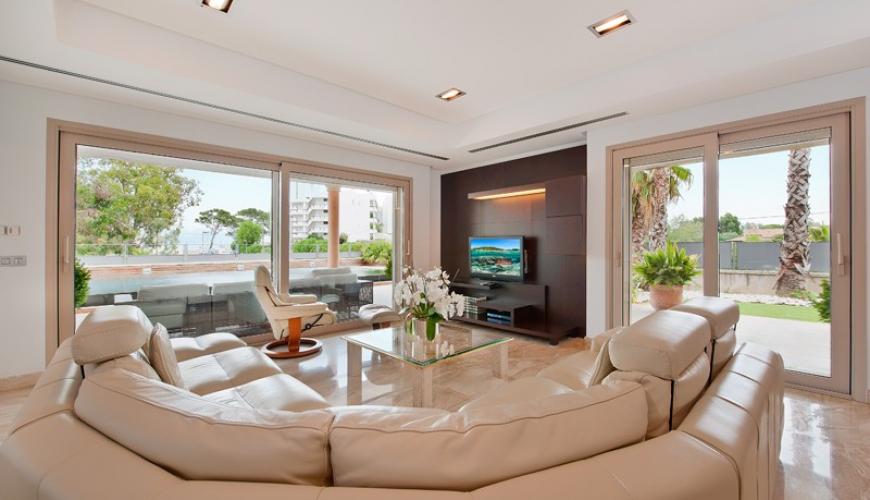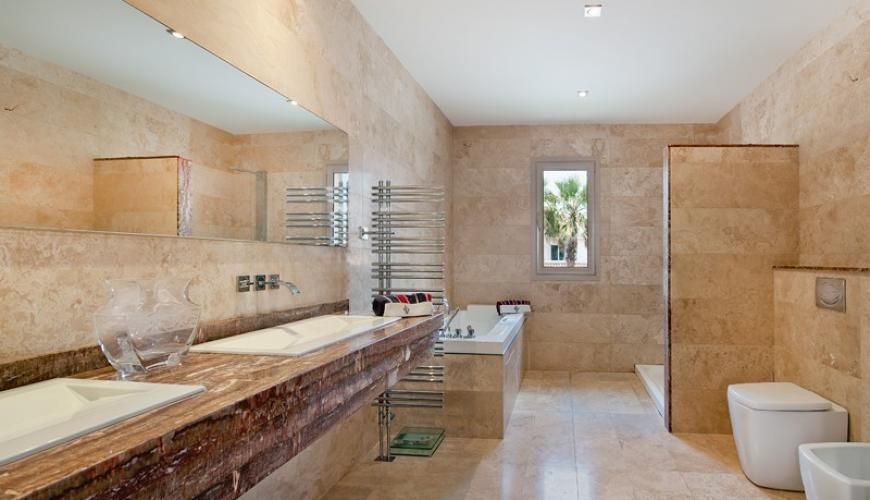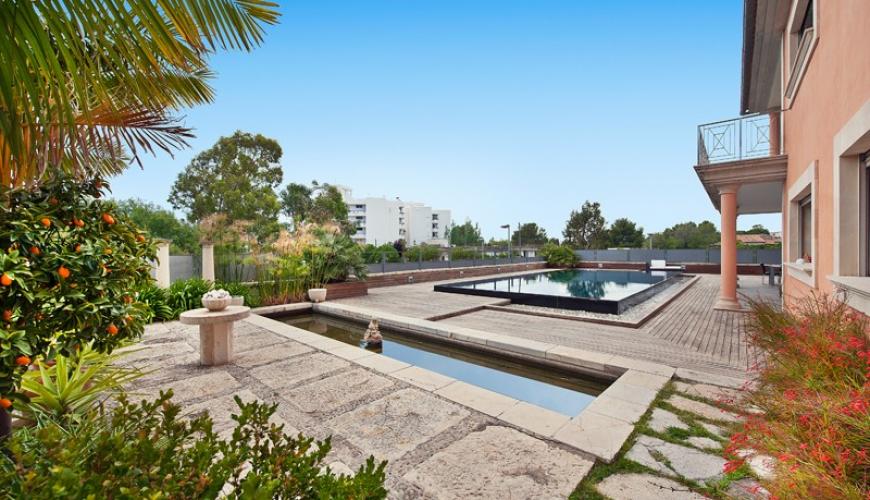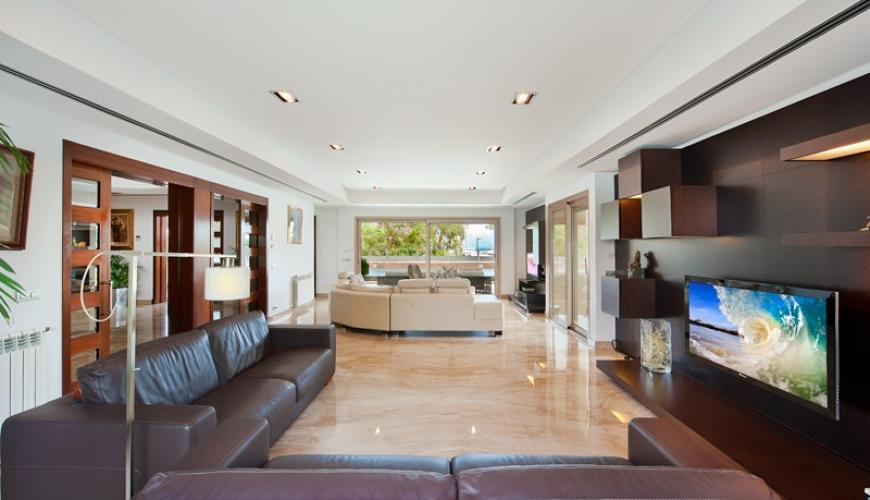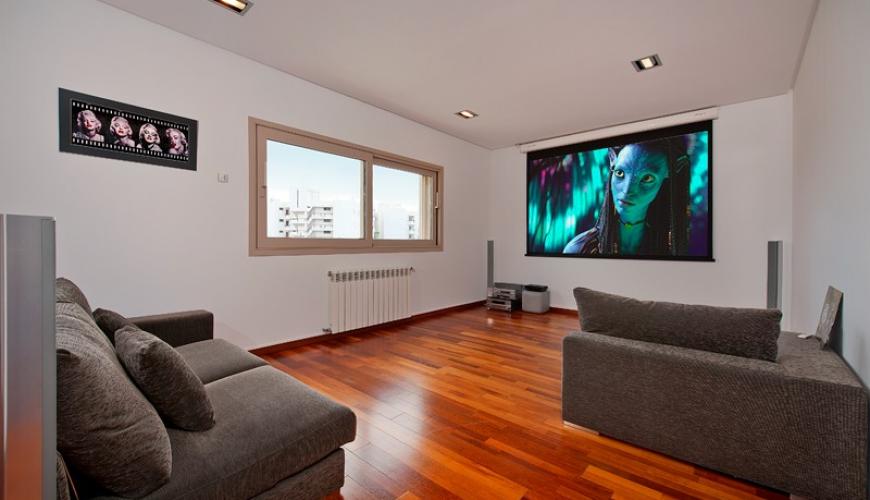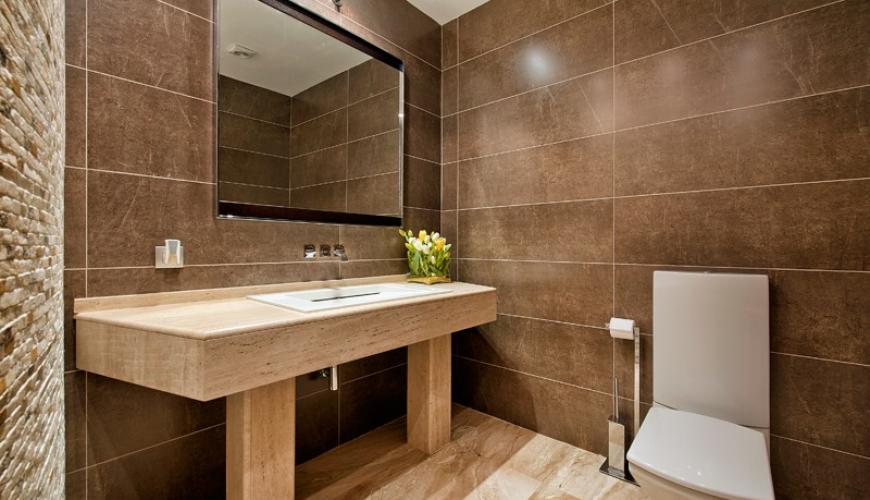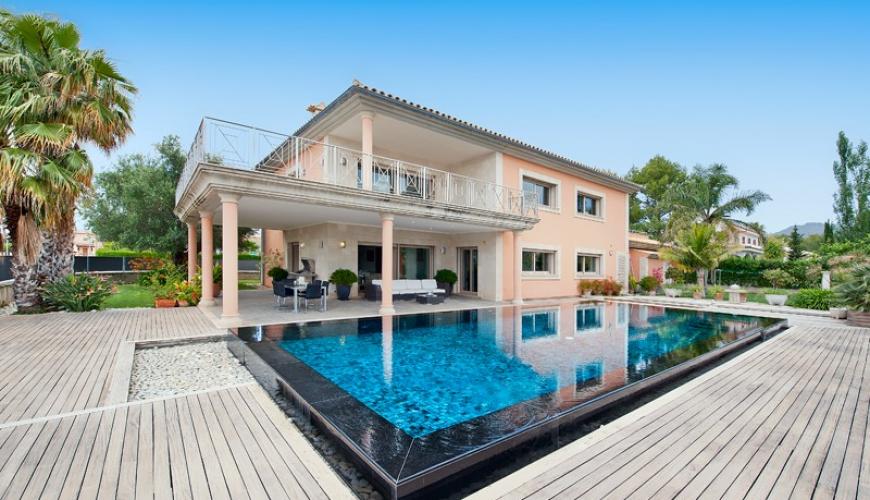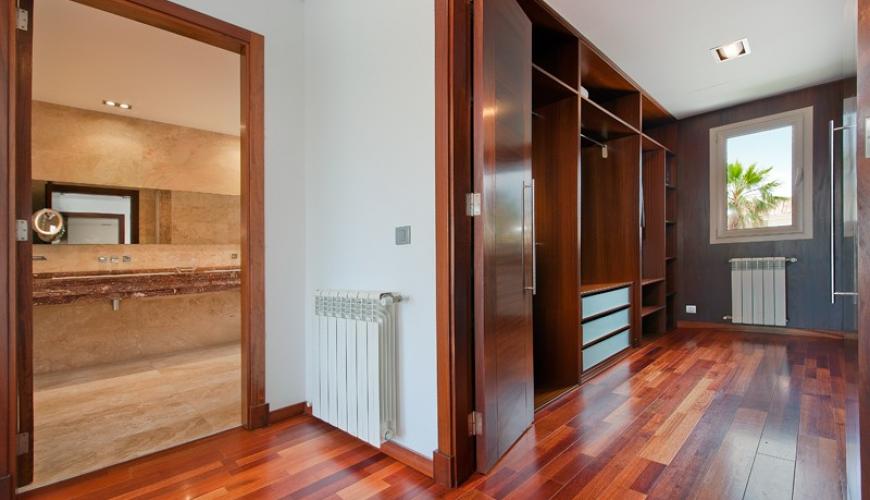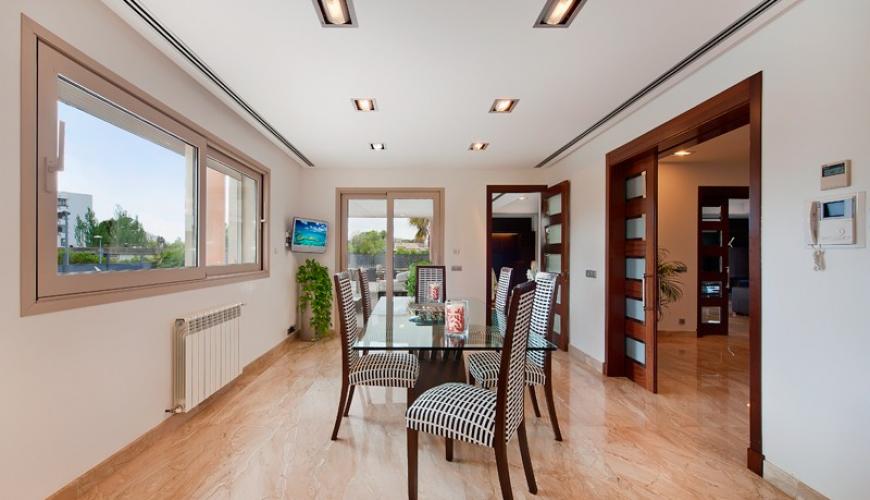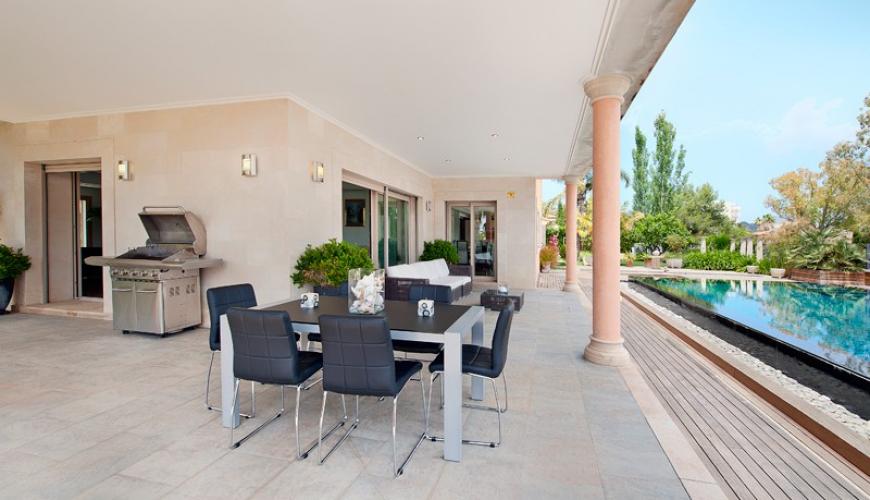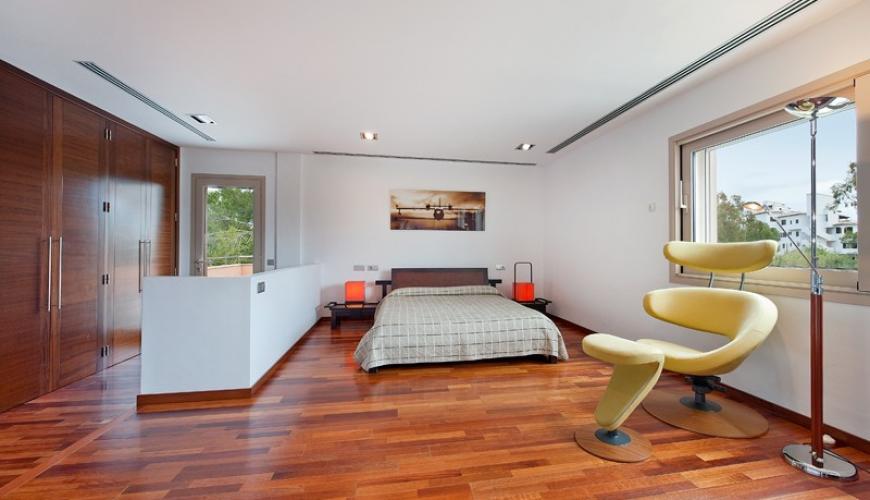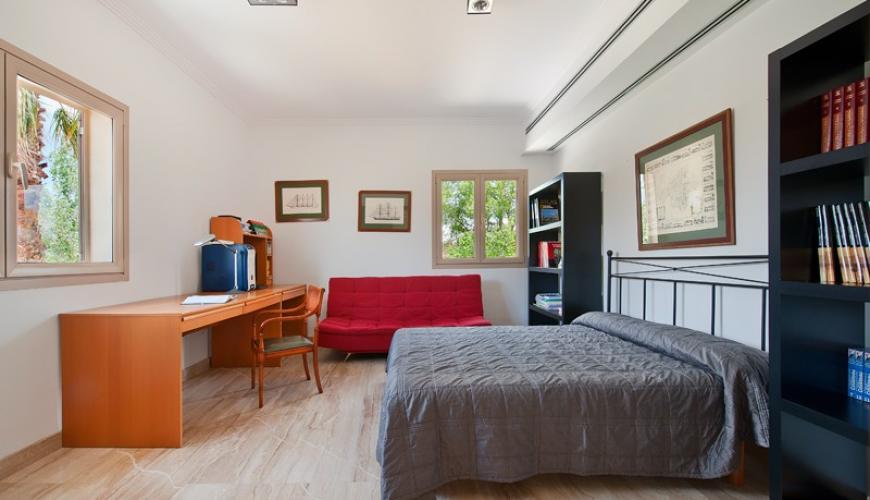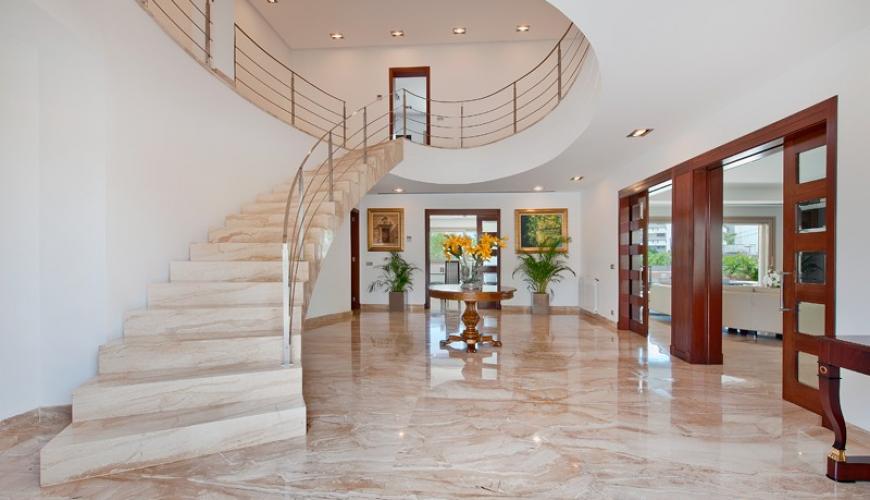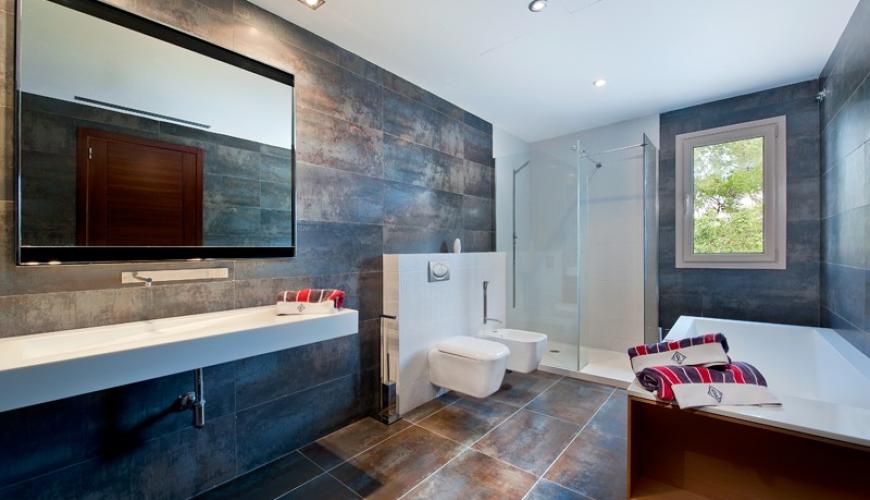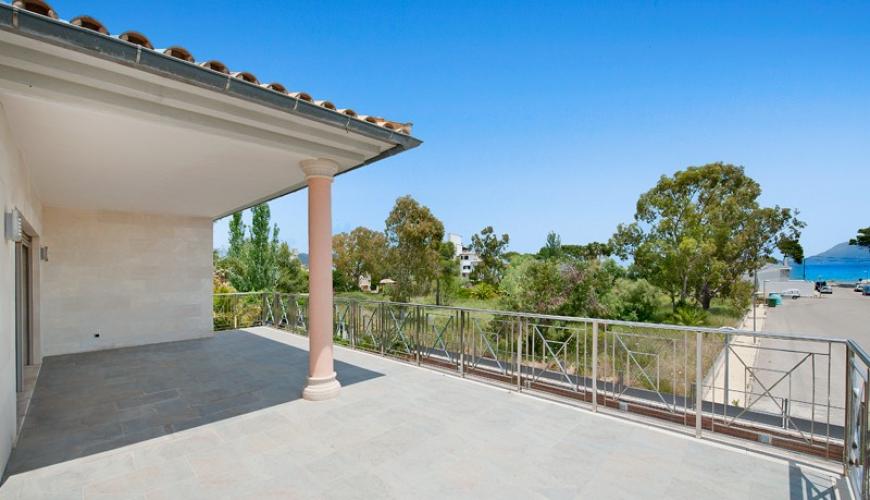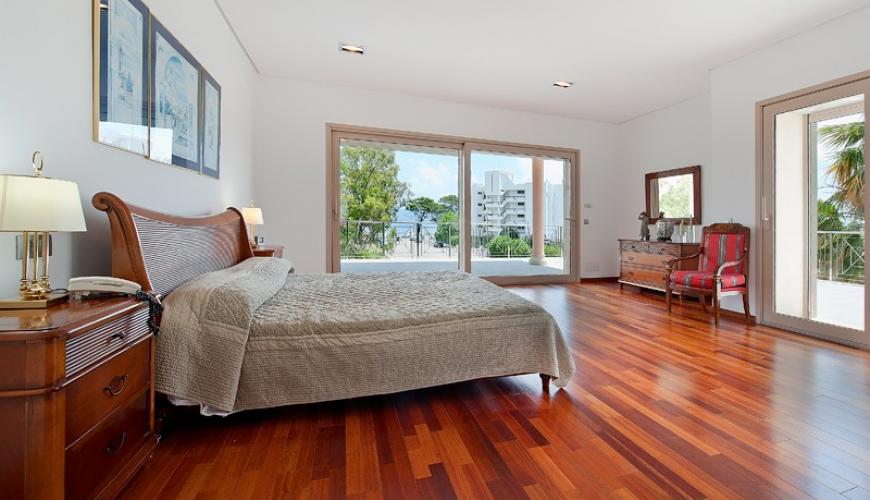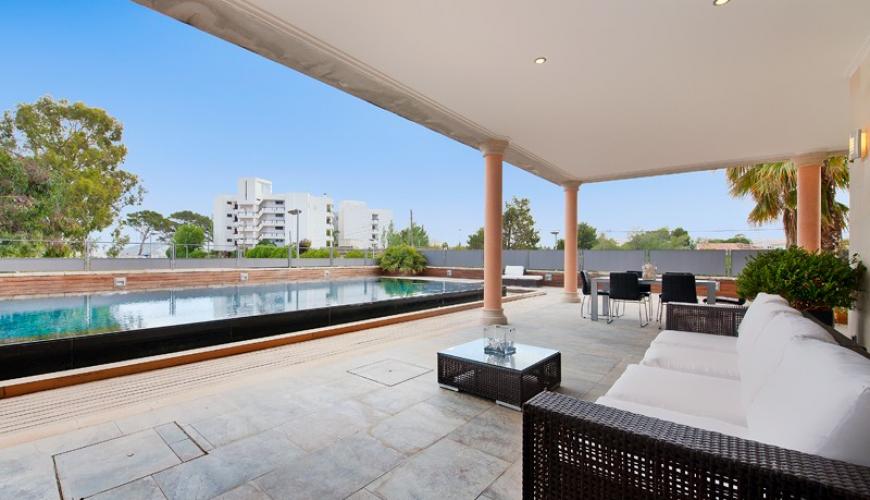 Villa Llenaire
Details
| | |
| --- | --- |
| Type of property: | Villa |
| Reference number: | Villa Llenaire |
| Property location: | Pollensa |
| Capacity: | 8 |
| Bathrooms: | 4 |
| Rooms: | 4 |
| Surface: | m2 |
Villa Llenaire | Pollensa | Majorca
This beautiful villa built with high quality materials and finishes with modern lines, is located just two minutes walking from the beach of Puerto Pollensa and 10/15 minutes from the city center, where you will find all the shops, bars and
restaurants.
On entering the house we find an impressive entrance hall, from which we can access all the rooms downstairs, and a spectacular staircase leads to the upper floor.
The ground floor comprises a bright living room, equipped with a glass table and chairs for 6.
A fully equipped kitchen with modern appliances, plus all the utensils you may need during your stay.
Both the living room and the kitchen open through French doors, and access to a covered terrace overlooking the pool, furnished with a comfortable sofa, a dining table and outside BBQ.
This floor also houses a double bedroom and bathroom with a bath tub.
And a great area with comfortable sofas where you can enjoy relaxing or watching TV.
On the first floor three bedrooms are distributed.
One of them has a sofa area and television.
Two of the bedrooms on this floor have en suite bathrooms, one with spa bath.
The third bedroom has a standard normal bath and separate shower.
All bedrooms have access to a large balcony.
The house has an air conditioning system integrated reverse cycle.
The pool is located in a beautiful garden and has a large terrace surrounding the area, the perfect place to enjoy breakfast and dinner in the open air, and to take the coveted sun of Majorca.
If you need a baby cot or high chair, please let us know in advance.
To confirm the booking we request a deposit of 30% in advance. The balance is paid at arrival in cash, unless previously been agreed otherwise payment.
The ECOTAX is not included in the price and will be paid at the check in directly to the landlord. It will charge 2€ per person and night for older 16 years in high season and half price in low season.
ON ARRIVAL
The villa will be available from 16.00hrs the day of your arrival. Early arrival is not recommended since this is when general maintenance service is carried out. Anyway, if you are due to arrive earlier, you can contact us, and we'll suggest you places to go shopping, have some meal, or even arrange an earlier arrival time. A refundable deposit € 500 is requested to cover any breakages.
ON DEPARTURE
On your departure day you should leave the villa before 10.00 a.m. As you may understand, we must have it prepared for the next guests. However, if you have a later flight please don't hesitate to contact us, since we can take care of your personal belongings. In case the property is not being occupied, we may also arrange a later check-out time.
INTERNET
WiFi free of charge is available for our guests, by meaning that you can bring your laptop and stay connected throughout your whole stay.
TELEVISION
The villa has a television with TDT (terrestrial digital television) and Astra satellite.
SAFETY
Our villa is completely fenced and totally safe for children. It also has security doors and safe vaults.
Although
Pollensa
is a very low risky area, we recommend you to place all your valuable belongings in the safe, and not to carry them with you to the beach.
It is also important to ensure you that all doors and windows are correctly locked the moment you leave.
CLEANING
The villa has an utility room equipped with a washing machine, a dryer, clothes line and all the cleaning material that may be needed to maintain the villa.
The kitchen includes a dishwasher to save you time to enjoy your holidays.
You'll find the villa in clean conditions and provided with sheets and towels (please bring your own beach towels).
As far as possible we request you to keep the villa clean and tidy during your whole stay.
Rubbish should be placed in specific bags at the containers located at the road for this purpose.
WATER
The scarcity of water in
Majorca
is a fact that should make us feel conscious about it and try not to waste it, so we would appreciate if you had it in mind.
Majorca
's water is suitable for cooking but it is not recommended to drink it.
INFORMATION OF INTEREST
:
Nearest Airport
: Son San Joan at 55 Kilometers
Nearest Ferry
: Alcudia at 9 Kilometers
Nearest Train
: Sa Pobla at 16 Kilometers
Motorway / Nearest Motorway
: Alcudia-Palma at 14 Kilometers
Nearest Beach
: Puerto Pollensa at 100 Meters
Bar lounge - closer cafeteria
: several at 500 Meters
Nearest Restaurant
: Can Josep at 240 Meters
Nearest supermarket
: in 1.5
Kilometers
Nearest Golf
:
Pollensa Golf Club
at 7.5 Kilometers
Registration number ET / 2866
Property features
Air-conditioning
Barbecue
Baby Cot
Internet
Garden
Washing machine
Dishwasher
Parking
Swimming pool
Terrace
Highchair
Satelite TV
Sea views
Location
Town information
POLLENÇA
/
POLLENSA
Pollença,
the
Port
of Pollensa
and Cala
San Vicente be one
of the most
beautiful areas
of our island and
,
undoubtedly an
attractive place
for tourism and
relaxation.
The
town of
Pollensa
offers
everyone
visitors the
chance to enjoy
a landscape of
sea and
mountain
or a broad
cultural offerings
and services.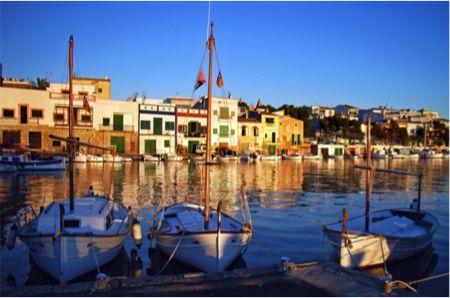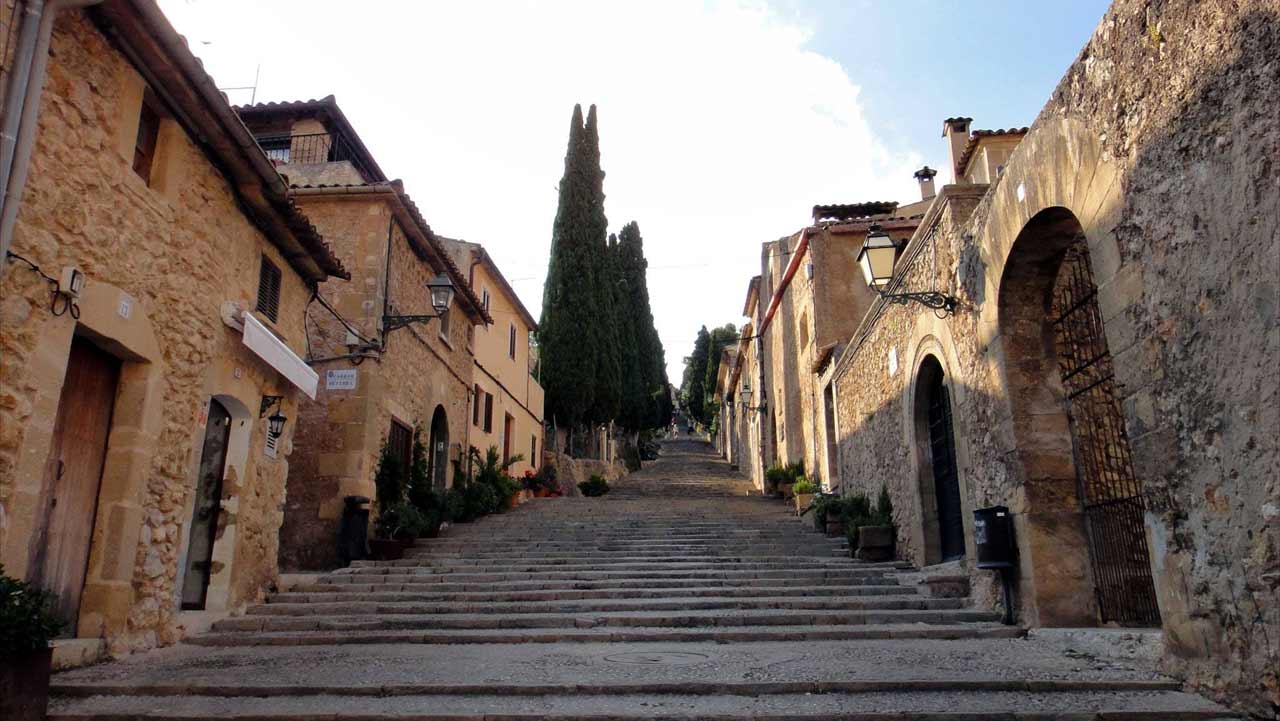 Beautiful places like

Calvary

or the Roman Bridge

,

the interesting Museum

,

Music Festival

,




the

different art exhibitions

... make even more

attractive the visit to

Pollença

old town

.




The

Port de

Pollença

preserves the personality

of a

privileged place, with

its long promenade

and




wide beaches

.
Click on the following link to open a livestream webcam:
Click

La
Cala
Sant
Vicenç is
a set
of coves
with crystal clear
waters
at the foot of
Cavall
Bernat
and the set of
prehistoric caves of
l'
Alzineret
.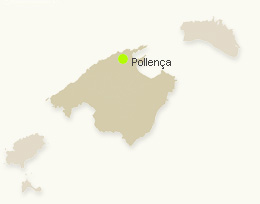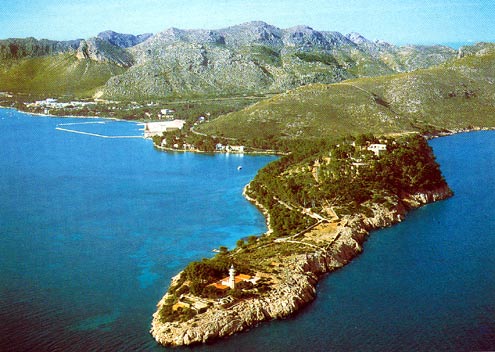 In
Pollença
we can
locate an
from
the busy
yet
quiet beaches of
Pto
.
Pollença
and
Formentor
,
as
the small but
unforgettable
coves of Cala
San
Vicente
, so often
inspired
artists
brush,
as
recondidas
and idyllic
coves
, many
nudists
that line the
road leading to
the Cape
Formentor
all in
less than 20
km
coast.
Also
do not forget
the
traditional and typical
village of
Pollença
with its culture
and parties,
whose maximum expression
is found
on
August 2
with
the party
Moors and Christians
.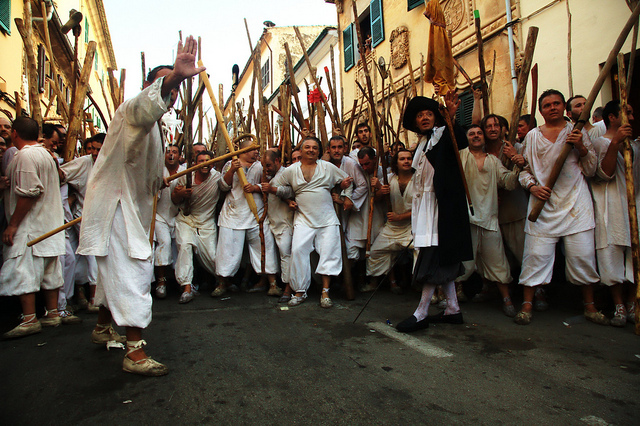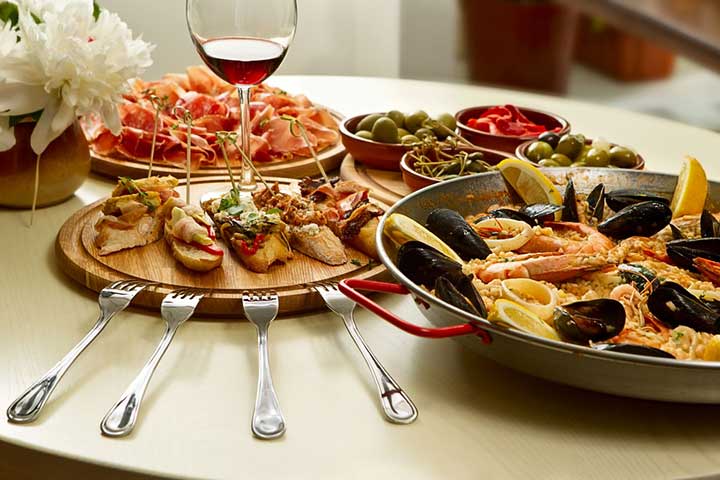 Equally important is
its cuisine
,
with
some of the best
restaurants on the island
.
This,
along with
the countless
monuments that
are located in
Pollensa
make this
typical village
Sierra Norte
Mallorcan
an ideal place for
an unforgettable
vacation.
We at
Villas
Comfort
,
will be delighted to
advise you on
the best options for
make the most of
your holiday
.
More information about
Pollença
's official website
for tourism in
Pollença:
http://www.ajpollenca.net/
---
Activities, services & Restaurants
Boat rentals and fishing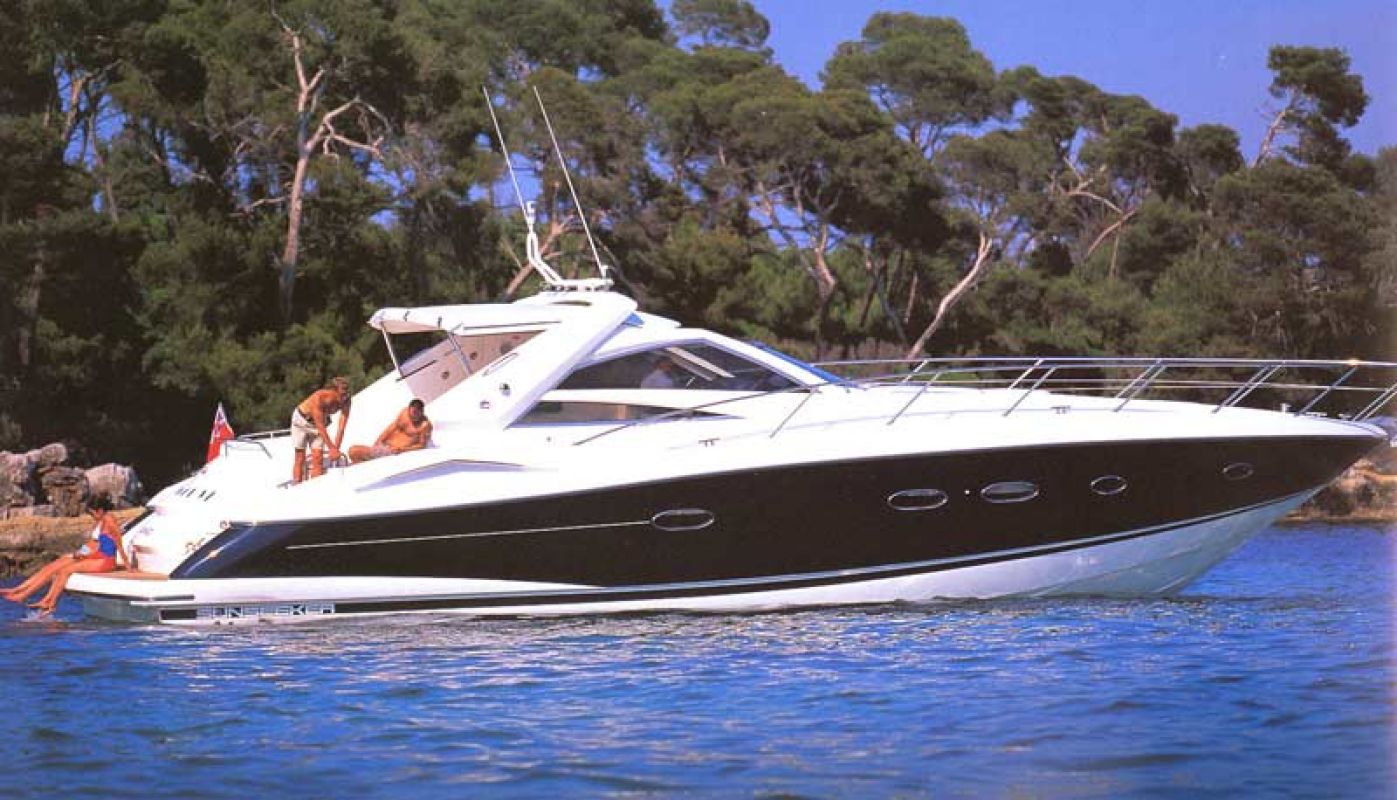 We work with various boat charter companies for recreational
use, and fishing trips.
If you would like to see first hand the coves and bays of
Mallorca or go fishing a large Mediterranean bluefin tuna, please
consult and inform you of the possibilities and prices.



---

Boat excursion


You have the chance to visit the most beautiful places and beaches
of Majorca from a different perspective. Spend an incredible day in a
7 meters boat, enjoying the sun and the blue water of the amazing bays
of the island. Try this incredible experience, having lunch and drinking in
a boat, resting in the middle of a bay, sunbathing, taking photos, water
skiing, and other interesting things.




You will have to carry your own food and drinks. The maximum number of
people is 7. The normal price is 450€, from 9:00 until 19:00, but it can vary
according to the schedule. Normally, you can choose any day of the week
but, in order to arrange a date and time that suits to both of us,
please contact us.
---
Airport transfers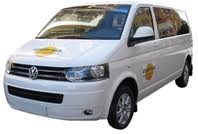 In villas comfort we care about you, so we offer you
the possibility to manage the recruitment of transfer
from the airport to the villa and vice versa, with best
quality and good price car.



---
Limo Rent










Villas Comfort offers you the chance to luxuriate with a limo exclusively for you, perfect
for weddings, events, shopping by Majorca or service that you need it, with maximum
discretion. We just have to request the service a few days in advance, and will gladly
manage contracting thisselect service.

---

Hidropark, Alcudia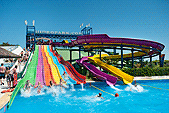 Hidropark Alcudia is a waterpark with a variety of
activities for young and older children.
It has a large number of pools and slides where it is
impossible to get bored.
A¡I also has a restaurant and minigolf with a distance of 54
holes.


---
Go Karting, Alcudia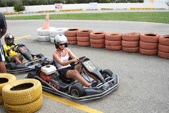 Go
Karting
is
a racetrack
for
Karts
in which
children and
adults
will enjoy
for a few minutes
up feeling
such
Fernando
Alonso
and
Lewis
Hamilton
in his
epic races
.
---
Golf Pollensa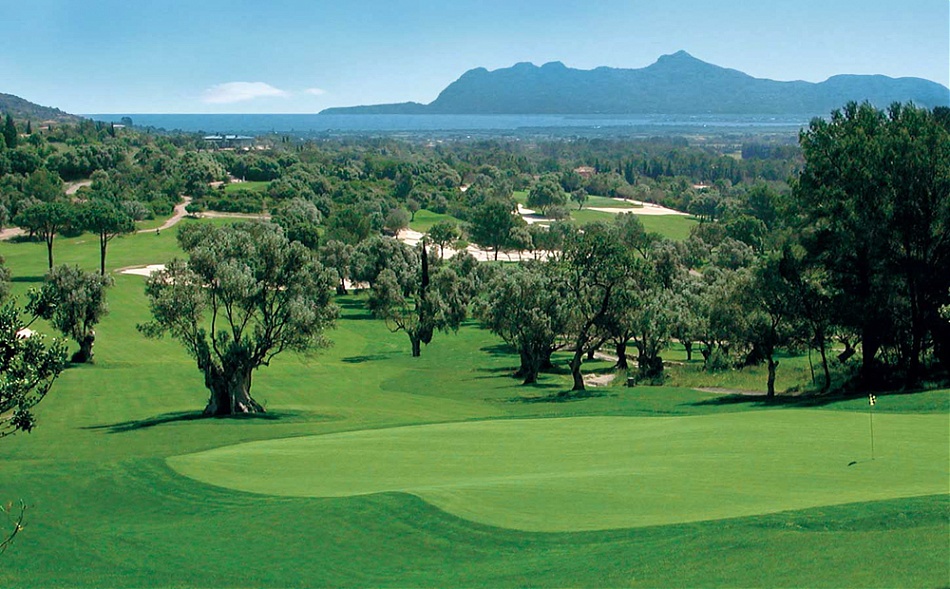 Golf course 9 holes, perfectly integrated into the beautiful local
environment,
The course offers panoramic views over the Sierra de Tramontana,
olive trees, and views spectacular bay of Pollensa, Alcudia and
natural park S'albufera.
Golf Pollensa opened in 1986 and underwent a complete program
renewal in 2000, to bring the excellent level today is held.

The greens are maintained in perfect condition, has a lot of native vegetation, especially olive and pine trees
Ctra. Palma-Pollença km 49,3
O7460 Pollença
Tel:+34 971 533 216
rec@golfpollensa.com
---
Wakeboard / Cableski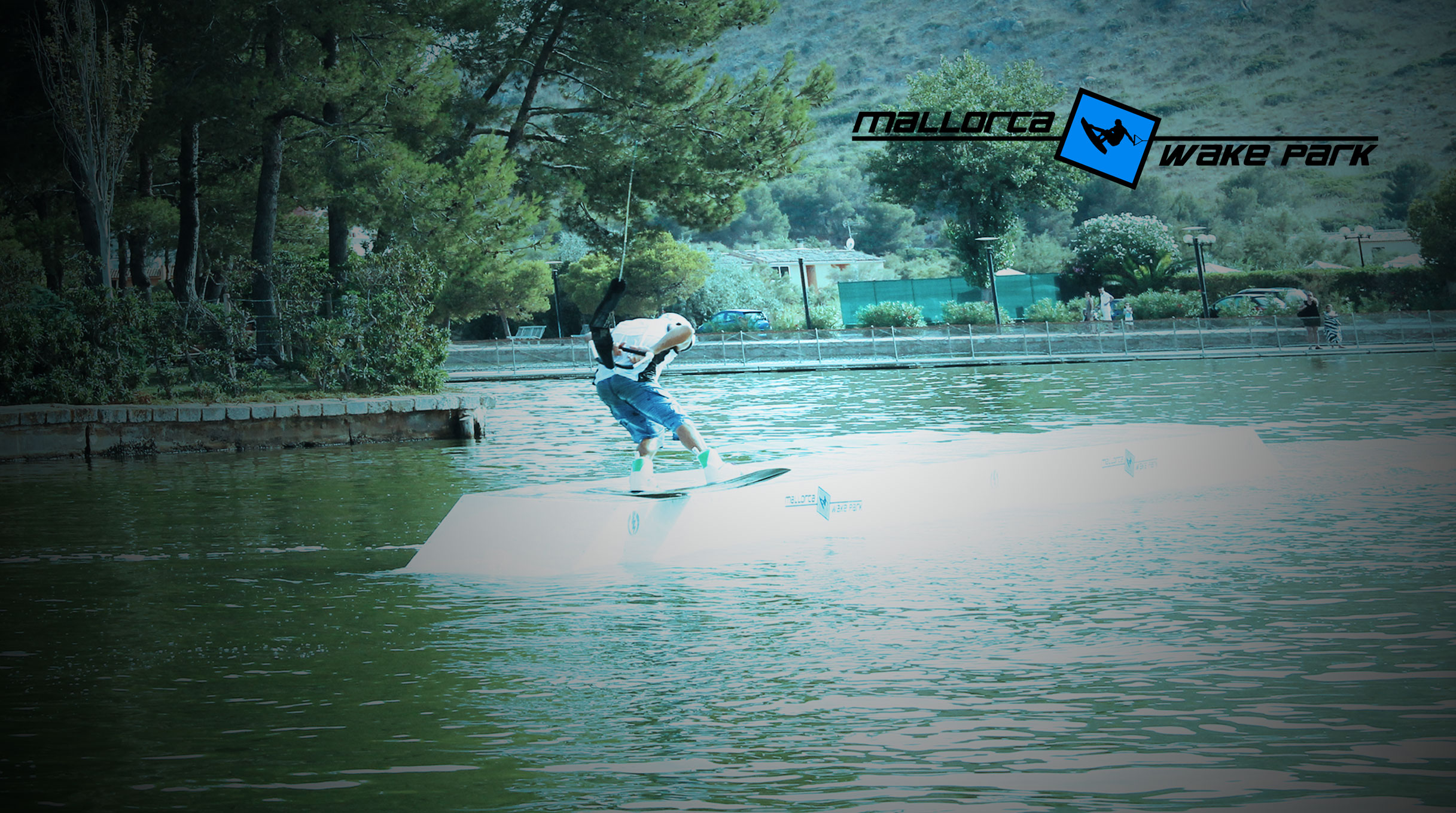 In MALLORCA WAKEPARK you can enjoy wakeboarding
at any time of day.
The cable
-ski
is located in the
Lago Menor
de Alcudia
With a distance of
220m
cable
-ski
-is the
longest in
Spain
The
Cable
-ski
is the
safest, fastest
and
fun way to meet
this wonderful
sport
since the
activity takes place in
a lake
making it extremely
safe for
any participant
from beginner
to advanced
© Mallorca Wakepark. Reservas +34 666 44 89 22 | info@mallorca-cableski.com
---
Private Cheff Service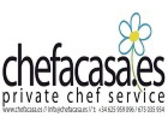 Chefacasa
is
a young and innovative
company
whose philosophy
is
based on creativity
, taste
and quality
.
All
Chefacasa
chefs
have
long experience in
renowned restaurants
as well as
major
companies
catering.
---
Restaurante Playero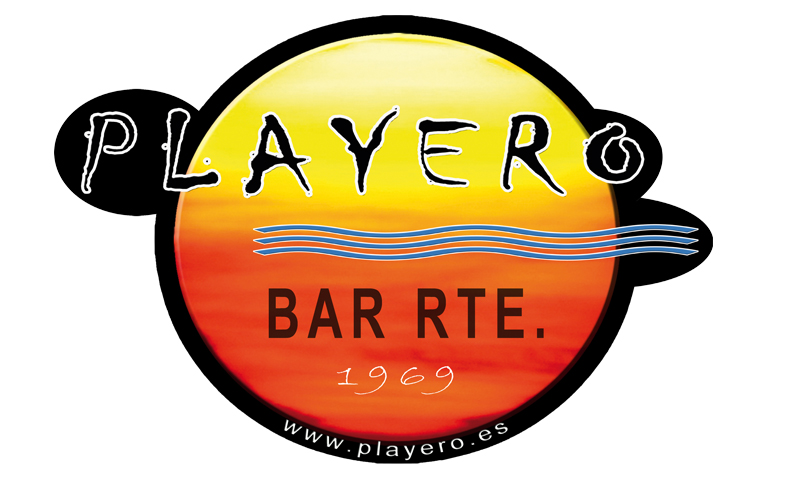 The
Playero
Restaurant is a
classic
beach in
Alcudia,
leading
to
around since
1969
,
but each
year
surprises us with
a varied
and original menu
ranging from
rice, fish
, seafood,
grilled meat
premium quality
, to a
wide selection of
savory and sweet
crepes.
Your
direcatamente
location
on the sandy
beach
of
Alcudia
grants a
unique
charm,
accompanied by his
dishes and
coktails
make this
restaurant
, one of
the highlights of
the north of
Mallorca
.
Canal
Carrer
Nou 1
, Bahia
de Alcudia.
+34
670 339 666
---
Paintball Xzone Alcudia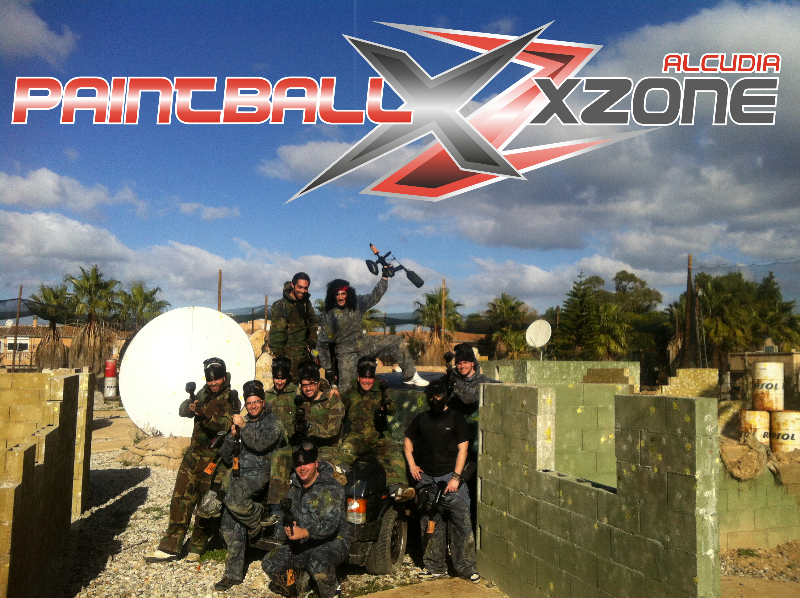 In
Paintball
Xzone
offer
a memorable
experience
to enjoy with
your family, friends
Paintball is
a sport
suitable for
everyone:
boys
/
girls, children
, seniors,
...
Besides
this sport
lets you share
any
event;
birthdays,
bachelor parties,
Learn with
paintball
to
promote
core values
in
our daily activities
, such as work
group
, leadership
, self-esteem
, companionship
while
we enjoy
.
Contact: Avda. de Pere Mas y Reus, 42 , 07400 Alcúdia - Mallorca Phone: +34 691 850 475
---
Guia Turistica de Mallorca: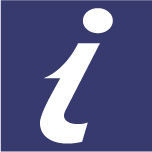 English Web
with
a wide
selection of activities
and services, from
accommodations
to restaurants
,
theme parks,
etc.
www.majorca-mallorca.co.uk
No reviews about this villa
Step 2

Please check price details

Step 3

Please fill out with your info

Step 4

Review your reservation